Top 5 CDL Fantasy Picks: Stage 4, Week 3
MAJOR 4 SIGN-UPS ARE LIVE, submit your team HERE.
Fantasy CDL Game: Breaking Point runs its own CDL fantasy game. Join over 10,000 fans and players and pick your favorite team of 4 CDL players. Always free-to-play. Compete against your friends and win cash prizes. Build a team each stage and Major HERE. Use the stats on the website to help you make the best team possible. Check your current team scores HERE.
Have comments or questions about the fantasy game? We love hearing your feedback.
Email us at: contact@breakingpoint.gg or reach out to us on Twitter!
---

The Taller Terrors, a pair of European SMGs and possibly THE MVP? Let's see who makes our list for the final week of online matches.
Cellium has been the real hero for Atlanta FaZe this year. FaZe split the week with a 1-1 record but Cellium's domination was consistent throughout with a 1.38 KD in the defeat to London Royal Ravens and a 1.44 in the 3-0 victory over Seattle Surge. His highlight of the week you say? A 1v4 clutch on Berlin SnD vs Seattle. With rivals dropping off and Cellium remaining consistent in all game modes, is he nearly a shoe in for the Vanguard season MVP?
Highlights from Stage 4, Week 3:
#1 in total fantasy points (223.2)
#2 in HP fantasy points (66.5)
#3 in SnD fantasy points (91.70)
#4 in CTL fantasy points (62.0)
---
Toronto Ultra managed to clutch up a Winners Bracket with a reverse sweep against OpTic Texas where CleanX led the lobby in kills and damage. CleanX earns the 2nd spot thanks to his SnD play; against OpTic Texas dropping an insane 29 kills across the 2 SnDs while also racking up 11 first bloods. Ultra are not yet safe for Champs and will need a big performance from their Danish SMG at the New York Major.
Highlights from Stage 4, Week 3:
#2 in total fantasy points (173.5)
#1 in SnD fantasy points (111.6)
---

London Royal Ravens clinched the number one seed going into the final major and the efforts of Afro were a large part. Against Atlanta FaZe, Afro dropped a whopping 16 kills (1 off the kill record on Bocage, currently held by HyDra). You all remember the "turn on" right? Despite falling short against the Los Angeles Guerrillas, the Royal Ravens are sure to be entering Major 4 on a high.

Highlights from Stage 4, Week 3:
#3 in total fantasy points (173.1)
#2 in SnD fantasy points (101.9)
---
Despite an 0-2 week, both rookies for the Seattle Surge make our top 5. Sib earns a top 5 thanks to his Control performance, where he finished with a 45-22 stat-line and nearly 5000 damage against Minnesota RØKKR. He went on to close out that series with a 1.38 KD and 113 kills. With Seattle's form dipping at the wrong time, we'll need to see if the Taller Terrors can help turn things around in time for Champs.

Highlights from Stage 4, Week 3:
#4 in total fantasy points (168.7)
#1 in CTL fantasy points (83.8)
---
The Aussie has really been trying to do it all for Seattle Surge this stage. He sits only second to Cellium in Overall KD and leads the Stage in both Hardpoint and Control Kills Per 10 Minutes. Despite all this, the defending champions have somewhat capitulated, falling to a 1-4 record and the 11th seed for the Major, starting in losers. Seattle have definitely still got potential to make a losers run and with the Rookie Of The Year leader at the tip of the spear, anything is possible.

Highlights from Stage 4, Week 3:
#5 in total fantasy points (166.1)
#1 in HP fantasy points (69.8)
#2 in CTL fantasy points (67.5)
---
Stage 4 Fantasy Winner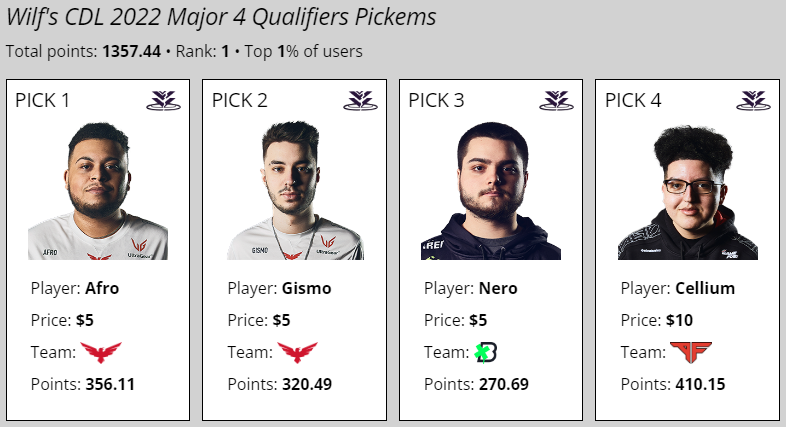 Congratulations to our winner WILF or "wilfovilli". A total score of 1357.44, WILF went for budget picks (Afro, Gismo, Nero) and a Fantasy Superstar (Cellium). Well played!