Top 5 CDL Fantasy Picks: Stage 4, Week 2
Fantasy CDL Game: Breaking Point runs its own CDL fantasy game. Join over 10,000 fans and players and pick your favorite team of four CDL players. Always free-to-play. Compete against your friends and win cash prizes. Build a team each stage and Major HERE. Use the stats on the website to help you make the best team possible. Check your current team scores HERE.
Have comments or questions about the fantasy game? We love hearing your feedback.
Email us at: contact@breakingpoint.gg or reach out to us on Twitter!
---
NY's X-factor, an LA duo, and 2 rookie SMGs make up the Top 5 for the second week of the Stage 4 Qualifiers.
New York improved to 4-0 in their final stage of the season after impressive victories over Seattle Surge and OpTic Texas. Paul was the Ehx factor in their exceptional week with a 1.19 KD across both series and an insane SnD KD of 2.70 which helped him top both the Overall and SnD Fantasy Charts. Can the Subliners pull off a miracle at their home major and make it to champs?
Fantasy Highlights from Stage 4, Week 2:
#1 in total fantasy points (211.1)
#1 in SnD fantasy points (114.1)
---
For the second consecutive week Thanos features on our list after another impressive individual showing. The Mad Titan led the Los Angles Guerrillas to a huge upset victory against Atlanta FaZe putting up a 1.42 KD overall along with the most kills in the lobby. Despite LAG's struggle, SlasheR has looked back in form going into the season's final Major.
Fantasy Highlights from Stage 4, Week 2:
#2 in total fantasy points (186.7)
#1 in HP fantasy points (60.1)
#2 in SnD fantasy points (94.6)
---
After an unremarkable season so far, Nastie has been impressing alongside the rest of the Royal Ravens since the return of Gismo. Nastie led the team in kills in both 3-1 victories (vs RØKKR & vs Mutineers) from this week and the aggressive Flex play of Gismo seems to have really fixed the pacing problems they were having during his absence. With matches against Los Angeles Guerrillas and Atlanta FaZe to come in Week 3, can Nastie lead London to a flawless 5-0 stage?
Fantasy Highlights from Stage 4, Week 2:
#3 in total fantasy points (176.2)
#5 in Control fantasy points (51.5)
---
Huke The Nuke comes in 4th on our Week 2 rankings after an impressive showing against the number one ranked Atlanta FaZe. It appears Huke unlocks a different form against Atlanta FaZe with. Three of Huke's best performances by Overall KD are against Atlanta FaZe, 1.20 this stage, 1.09 during Stage 3, and 1.24 during Stage 2 Grand Finals. Huke impressed in SnD as well this week with a notable performance on Bocage SnD against the Boston Breach going 10-4. LAG have a crucial match against London next week, a win here will greatly help their case for qualifying for Champs.
Fantasy Highlights from Stage 4, Week 2:
#4 in total fantasy points (169.2)
#3 in SnD fantasy points (91.7)
---
Nero has truly been the hero for Boston since the recent addition of Vivid. With Vivid now at the helm, setting the aggression for Boston Breach, Nero has been free to focus more on slaying and has been dominating this stage. Nero's Control performances this week have been nothing short of spectacular with a 30-13 showing vs Seattle Surge and a 34-16 performance vs Los Angeles Guerrillas. If there's anything we've learnt this week, it's don't play the new Boston Breach on Tuscan Control.
Fantasy Highlights from Stage 4, Week 2:
#5 in total fantasy points (161.1)
#1 in Control fantasy points (91.8)
---
Our Current Leader
Shoutout to Flum9 who currently leads Breaking Point's Stage 4 Fantasy. The money lineup looks to be PaulEhx, Kismet, Nastie, and Kenny.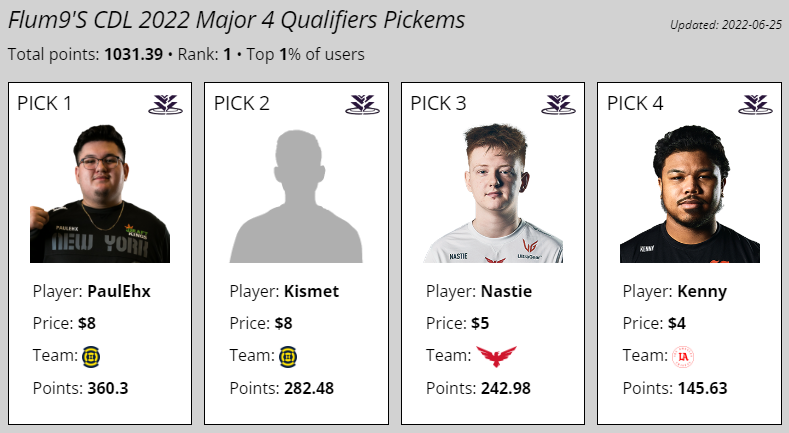 One weekend left to decide our winner! Good luck to everyone!