Top 5 CDL Fantasy Picks: Stage 3, Week 3
Fantasy for Major III is OPEN. Build your team HERE.

(Signups will CLOSE on Thursday, June 2 @ 4:30 PM EST)
Fantasy CDL Game: Breaking Point runs its own CDL fantasy game. Join over 10,000 fans and players and pick your favorite team of 4 CDL players. Always free-to-play. Compete against your friends and win cash prizes. Build a team each stage and Major HERE. Use the stats on the website to help you make the best team possible. Check your current team scores HERE.
Have comments or questions about the fantasy game? We love hearing your feedback.
Email us at: contact@breakingpoint.gg or reach out to us on Twitter!
---

Major III qualifiers came to a close last weekend. Week 3 solidified the standings with RØKKR taking first seed, and we also got to see the first ever tie-breaker match in CDL history. Very thrilling stuff (/s)!

Let's take a look at our top fantasy performers for the final week:
The Tissue takes the top spot this weekend for fantasy points (2nd place last weekend). CleanX and the Ultra squad took down Paris and London in convincing fashion. In the SnD against London, CleanX put up an insane 10-1 scoreline and finished the weekend with a 2.29 SnD KD. CleanX also had superstar performances during the Hardpoints typically having the most kills on his team and finished with a Hardpoint KD of 1.17. He was also the #1 fantasy scorer this stage, scoring 521.85 total points.
CleanX fantasy highlights in Stage 3, Week 3:
#1 in total fantasy points (223.7)
#3 in Hardpoint fantasy points (88.8)
#5 in SnD fantasy points (90.7)
---
Fellow teammate Cammy takes the second spot this weekend with an almost-identical statline to his teammate CleanX. 2.29 SnD KD and a 1.18 Hardpoint KD for the weekend, sounds familiar right? Cold War Cammy made a return last week.
Cammy fantasy highlights in Stage 3, Week 3:

#2 in total fantasy points (210.4)
#5 in Hardpoint fantasy points (85.8)
#5 in SnD fantasy points (90.7)
---
Next up is the iceman himself, Accuracy. In the past 3 matches, Accuracy averaged a whopping 1.0 kills per round in SnD, putting up 11 and 10 kills against London and against Florida, respectively. While Lamar is typically quiet in the stats department, he delivered big numbers last week.

Accuracy fantasy highlights in Stage 3, Week 3:

#3 in total fantasy points (207.9)
#3 in SnD fantasy points (100.4)
---
Fourth this week is Nero from Boston Breach. Boston struggled this split with a 1-4 record, most recently losing to LA Thieves and Florida last weekend. However, we have to highlight Nero's stellar SnD performance against Florida. He was 3 off the kill record, dropping 14 against Florida on Bocage SnD, and in the map 5, he finished with 11 kills. Impressive work out of the rook.

Nero fantasy highlights in Stage 3, Week 3:

#4 in total fantasy points (196.4)
#1 in SnD fantasy points (122.9)
---
Last but not least, we've got Big Wake rounding out the top 5. Owakening is a statistical monster, plain and simple. He regularly appears in our Top 5's and currently sits with the 5th highest overall KD (1.11) on the season. This past weekend, Florida suffered a 3-1 loss to Seattle but clutched up in a controversial map 5 round 11 win against Boston. Owakening finds himself in the 5th spot thanks to his Control numbers from last weekend. Against Seattle, he dropped a 1.16 KD in Control and against Boston, he had a 1.32 KD in Control.

Owakening fantasy highlights in Stage 3, Week 3:

#5 in total fantasy points (193.3)
#3 in Control fantasy points (55.0)
---
Stage 3 Fantasy Winner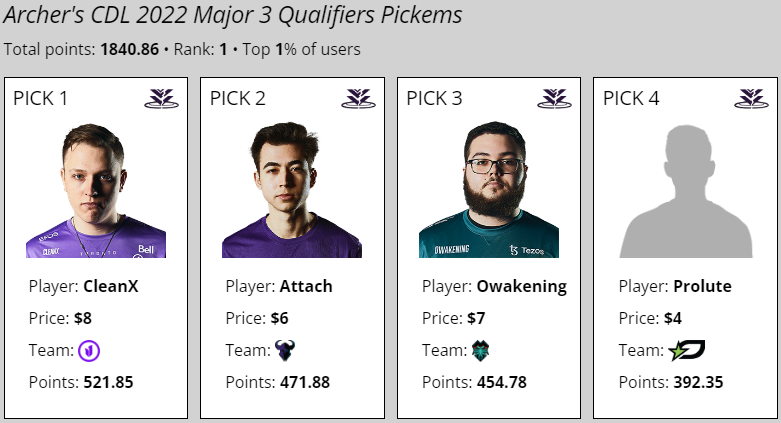 Congratulations to our winner ArcherPro. Here's his Twitter, go throw him a follow. Archer's final score totaled a whopping 1840.86 points. Yes, we double checked his score. A reminder for all players: after changing the algorithm by popular request, fantasy scores are now cumulative after every weekend. Archer took a risk with a budget pick of Prolute, then rounded out his team with powerhouses Big Wake, The Tissue, and Attach. Good looks, Archer. Until next time!