Top 5 CDL Fantasy Picks: Stage 3, Week 2
Fantasy CDL Game: Breaking Point runs its own CDL fantasy game. Join over 10,000 fans and players and pick your favorite team of 4 CDL players. Always free-to-play. Compete against your friends and win cash prizes. Build a team each stage and Major HERE. Use the stats on the website to help you make the best team possible. Check your current team scores HERE.

Major 3 fantasy will open for signups on Sunday, May 29, after the CDL matches are over. Build your team HERE.

Have comments or questions about the fantasy game? We love hearing your feedback.

Email us at: [email protected] or reach out to us on Twitter!  
---

New look RØKKR with 🅿️-Dawg and Havok, #FreeTemp back in week 2, and Thanos! The top five fantasy players from last week are a mixed bag across several CDL teams. Here are the top 5 CDL fantasy player performers from Stage 3, Week 2 of the 2022 CDL season:
Priestahh takes the top fantasy spot this week. Last weekend, Minnesota took down Ultra in a 3-2 nail biter and a 3-1 victory over Mutineers to put themselves at 4-0 for this stage. To put it simply, 🅿️-Dawg fried. The addition of Havok and the move to Main AR has clearly elevated Priestahh's gameplay.
Priestahh fantasy highlights in Stage 3, Week 2:
#1 in total fantasy points (279.2)
#1 in HP fantasy points (116.8)
#2 in SnD fantasy points (110.2, tied with SlasheR)
Preston's resurgence is impressive after having a negative KD in Stages 1 and 2. He dropped a 1.22 overall KD against both Toronto and Florida, and is currently sitting at an overall KD of 1.11 for Stage 3.
---
Toronto Ultra's aggressive SMG, CleanX, fills in the second position in this week's fantasy scorers. He's had a relatively quiet season along with the Ultra team compared to their previous season performance (placing 2nd at 2021 COD Champs and 2nd in the 2021 regular season). Ultra are becoming best friends with game 5s, with all of their series this stage ending in game 5's. The past weekend, Ultra lost 3-2 RØKKR and won 3-2 over Subliners.
CleanX fantasy highlights in Stage 3, Week 2:
#2 in total fantasy points (265.4)
#1 in SnD fantasy points (152.1)
Tobi earns this spot thanks to an SnD masterclass. This weekend, he set the kill record on Berlin SnD, dropping 15 kills against RØKKR, and later that weekend, another 12 kills against Subliners on the same map. He may just be the Berlin Bandit. Get that bag, Tobi 💰.
---
Donnie Temp breaks into the top 5 fantasy scorers in back to back weeks. This time around, he's earning his fantasy keep in control and SnD. Can Legion win a match though? 0-3 against NYSL and 2-3 against a struggling Guerrillas last week, despite some huge performances from Temp.

Temp fantasy highlights in Stage 3, Week 2:

#3 in total fantasy points (225.7)
#1 in Control fantasy points (68.5)
---
RØKKR earns a 2nd spot in this week's top 5. Havok has been a mainstay in the CDL over the past 2 years. This year, he spent the first half of the season in Challengers alongside KiSMET, Breszy, and General. During his Challengers tenure, he won back-to-back Elites and 5 Challengers Cups in a row. Havok's well-rounded performance last week netted him 221.8 fantasy points. Certainly making his case that he belongs in the CDL.

Havok fantasy highlights in Stage 3, Week 2:

#4 in total fantasy points (221.8)
---

Coming in at #5 is Thanos himself, SlasheR. Whether it's a miracle Major run, or Breaking Point Fantasy, Slasher really is inevitable.
Search & Destroy is Guerrillas' best game mode with a win-rate of 57.6% this season (83.3% during the Major 2 miracle run). Although it's a team effort, SlasheR stands out above the rest with a 1.13 SnD KD (highest on his team, and 9th highest in the CDL, excluding Prolute and Scrappy). Whether LAG turn things around this season is yet to be seen, however, one thing can be counted on, and that is Austin "SlasheR" Liddicoat is inevitable.

SlasheR fantasy highlights in Stage 3, Week 2:

#5 in total fantasy points (200.7)
#2 in SnD fantasy points (110.2, tied with Priestahh)
---
Honorable mention: Scrappy (191.65 total fantasy points in week 2 from 1 match)
---
Current Fantasy Leader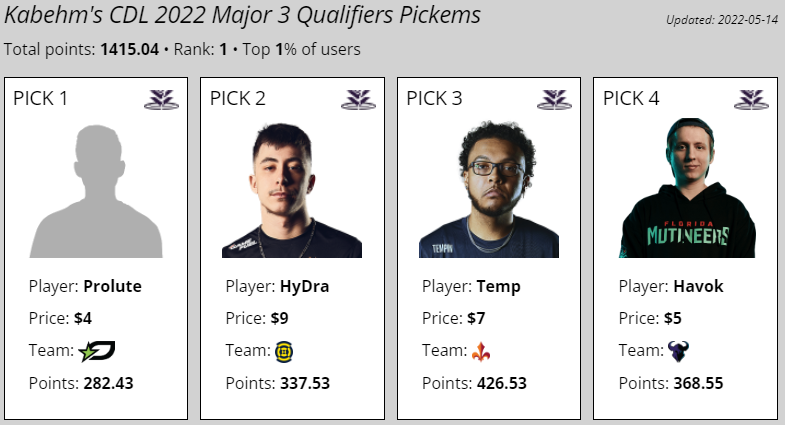 Finally, shoutout to Kabehm, who leads the pack after Week 2 with 1415.04 total points. Talk about a diverse team – #FreeTemp, Hail HyDra, and 2 new kids on the block. If I'm Kabehm, I'm feeling good about my chances to win it all. One more week to go!