Top 5 CDL Fantasy Picks: Stage 3, Week 1
Fantasy CDL Game: Breaking Point runs its own CDL fantasy game. Join over 10,000 fans and players and pick your favorite team of 4 CDL players. Always free-to-play. Compete against your friends and win cash prizes. Build a team each stage and Major HERE. Use the stats on the website to help you make the best team possible. Check your current team scores HERE.

Have comments or questions about the fantasy game? We love hearing your feedback.

Email us at: [email protected] or reach out to us on Twitter!
---

Attach underrated? #FreeTemp?? The top five fantasy players from last week were all bargain picks, and could have been had for $7 or less! Here are the top 5 CDL fantasy player performers from Stage 3, Week 1 of the 2022 CDL season:
Attach has flown under the radar. RØKKR this season: 4-6 combined record in the Major 1 and 2 qualifiers, top 8 at Major 1, last at Major 2, and last at the Pro-Am Classic. However, Attach continues to be the silver lining for the RØKKR squad that's finally coming back to life this qualifier stage.
Attach fantasy highlights in Stage 3, Week 1:

#1 in total fantasy points (235.1)
#1 in Control fantasy points (90.3)
#5 in SnD fantasy points (83.9)

This stage, Dillon is putting up a 1.46 overall KD (#1 in CDL). 1.33 KD in Hardpoint, a 1.70 KD in Search & Destroy, and a 1.51 KD in Control. Talk about consistency. With this performance, he has entered the Top 5 in overall season KD for the entire season sitting at a 1.12 (5th). Tippable out of the vet. No wonder he's the #1 fantasy scorer!
---
In his rookie season, Sib has taken the scene by storm. Previously known for controversy, Sib has kept his head low in his debut season delivering exciting gameplay and putting up a strong argument for ROTY. Seattle Surge have had a rollercoaster of a season, at times looking like a top team, then a week later looking like a bottom four squad.
Sib ranks #2 in fantasy from week 1, with 213.3 points. The bulk of his points attributed to his stellar Hardpoint performance. Against Toronto, Sib had a 1.44 HP KD. Against Paris, Sib had a 1.28 HP KD.

Sib fantasy highlights in Stage 3, Week 1:

#2 in total fantasy points (213.3)
#2 in HP fantasy points (137.3)
---

A staple in the COD community, known for his bih personality, Temp has struggled in recent years, moving from Splyce, to NYSL, to LA Thieves, to Paris Legion (what a mouthful).
Although the team has failed to perform, Temp has been a standout star on his team netting himself 200.9 points last week. This was also largely in part due to his stellar Hardpoint performances (#1 in HP fantasy points). In Hardpoint against Seattle, Temp dropped a 1.53 KD and 30.2 Kills per 10 Minutes, and against London, a 1.34 KD and 26.4 Kills per 10 Minutes. Known by some as "The Marksman", Donnie held true to the name with 7 snipes and a 2.75 KD against Seattle in SND. #FreeTemp

Temp fantasy highlights in Stage 3, Week 1:

#3 in total fantasy points (200.9)
#1 in HP fantasy points (140.5)
---

Harry is the newest face in the league, representing his home country on the London Royal Ravens. He comes in to replace Gismo this stage. With Harry in the lineup, Ravens are currently 1-1 in this qualifier stage, losing 0-3 to LA Thieves and beating Paris in Map 5 to win 3-2.
Team record aside, Harry had a spectacular debut as a rookie, dropping a 1.10 KD against LAT and a 1.18 KD against Paris. Harry was a do-it-all for his team this weekend netting himself a total of 199.7 fantasy points. All for the shoestring price of $4! Look for Harry to continue to make an impact in the League and in fantasy as the season progresses.

Harry fantasy highlights in Stage 3, Week 1:

#4 in total fantasy points (199.7)
#4 in SnD fantasy points (88.7)
---
Last but not least, Afro rounds out the top 5. Making his debut last season, Afro has been one of the top SMG's in the league. So far, he's been a bright point for Ravens fans and the only remaining Ravens player from last season's roster.
The fantasy market dropped for Ravens players this qualifier stage due to below a below average performance. Afro, another budget pick, sits at 193.5 points thanks to his all-round performance – 1.03 KD in Hardpoint, 1.29 KD in Search & Destroy, and a 1.32 KD in Control. Can't ask much more from your SMG star.

Afro fantasy highlights in Stage 3, Week 1:

#5 in total fantasy points (193.5)
#3 in SnD fantasy points (88.7)
---
Honorable mention: Pred (190.1 total fantasy points in week 1)
---
Current Fantasy Leader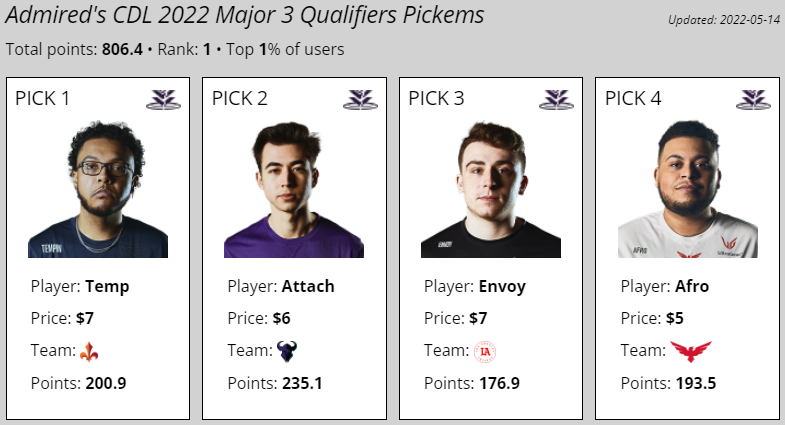 Finally, shoutout to AdmiredSensei, who currently leads the pack after Week 1 with 806.4 total points. No surprise, 3 of the top 5 fantasy players are on AdmiredSensei's team. Time will tell if this lineup will remain number 1, but for now, great job!