Top 5 CDL Fantasy Picks: Major 4
Fantasy CDL Game: Breaking Point runs its own CDL fantasy game. Join over 10,000 fans and players and pick your favorite team of 4 CDL players. Always free-to-play. Compete against your friends and win cash prizes. Build a team each stage and Major HERE. Use the stats on the website to help you make the best team possible. Check your current team scores HERE.
Have comments or questions about the fantasy game? We love hearing your feedback.
Email us at: [email protected] or reach out to us on Twitter!
---
The final Major of the Vanguard season is in the books. Domination from Nadeshot's squad as well as a rampaging bulldog, here are the Top 5 Fantasy players from the New York Major.
Who else could lead our list but the Major 4 MVP himself. Kenny was huge all major long for the LA Thieves playing with a flair and gunskill unique only to him. He led Los Angeles Thieves in nearly every statistical department in all three game modes. Kenny especially impressed in Search and Destroy with a massive 1.45 KD and 0.95 Kills Per Round. The YY machine shut up all haters at this event and finally ended his wait of over 1000 days for a Championship since his last victory during Black Ops 4.
Highlights from Major 4:
#1 in total fantasy points (240.9)
#2 in HP fantasy points (70.06)
#1 in SnD fantasy points (119.73)
---
The Dark Prince himself comes in second on the list. Envoy had an impressive event aside from being Vanguard'd by a ladder. Envoy performed consistently across all three game modes, as well as boasting a high First Blood % helping to lead LA Thieves to their first chip since CDL franchising. Envoy had some huge moments at previous CoD Champs but has yet to find much success, can Envoy lead the LA Thieves to a ring in their home state? Time will tell!
Highlights from Major 4:
#2 in total fantasy points (214.85)
#3 in HP fantasy points (65.35)
#2 in SnD fantasy points (90.14)
#5 in Control fantasy points (54.36)
---
The Alaskan Assassin had a solid and consistent Major from start to finish. Since switching to the Flex role, Drazah's performances have gone under the radar maintaining an impressive 1.06 KD ratio from the Pro-Am Classic to now. Drazah went big for the squad in the Losers Final vs Atlanta FaZe with a huge 1.31 including a 25-11 performance on Tuscan Control. After picking up his first ever Major trophy he will be riding a high into the CDL Championships.
Highlights from Major 4:
#3 in total fantasy points (177.45)
#5 in SnD fantasy points (70.83)
---
KiSMET, the bulldog himself, is the only non LA Thieves member on our list. This may have been the best performance since his CDL debut with Paris Legion in 2020, backed by the crowd, he had an incredible performance with insane clutches and moments that helped lead the New York Subliners to securing their spot at Champs and a 2nd place finish at their home Major. During the Winners Finals against LAT, KiSMET went 41-30 with 4,603 damage and 2:08 seconds of hill time, truly a do-it-all SMG.

Highlights from Major 4:
#4 in total fantasy points (167.13)
#1 in HP fantasy points (76.04)
---
After a nightmare two years on the Seattle Surge, Octane has finally found his way back into the Winners circle. Octane had an impressive stage overall with the #5 Overall KD with a 1.15 during the online portion and a 1.10 at the New York major. Now Octane will turn his attention to Champs in LA where he will be looking to avenge his Black Ops 4 heartbreak and pick up his first ever ring.

Highlights from Major 4:
#5 in total fantasy points (159.88)
#1 in Control fantasy points (67.86)
---
Major 4 Fantasy Winners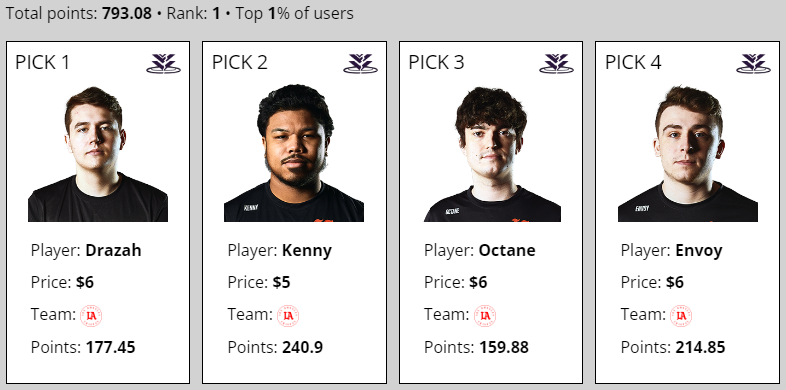 Congratulations to our 17 winners (you know who you are) who chose all four members of the LA Thieves roster. We got some fans out there! A total score of 793.08! Well played!