By the time Major III came to a close, Toronto Ultra emerged victorious. With all that we witnessed, now is the time to provide fans with the Major III report cards. The most viewed event in Call of Duty League history did not disappoint, but your favorite team may have. Most players have their sights set on preparing for Stage IV, leaving me the opportunity to grade the results from Major III. Let's see who overperformed, underperformed, or played as expected.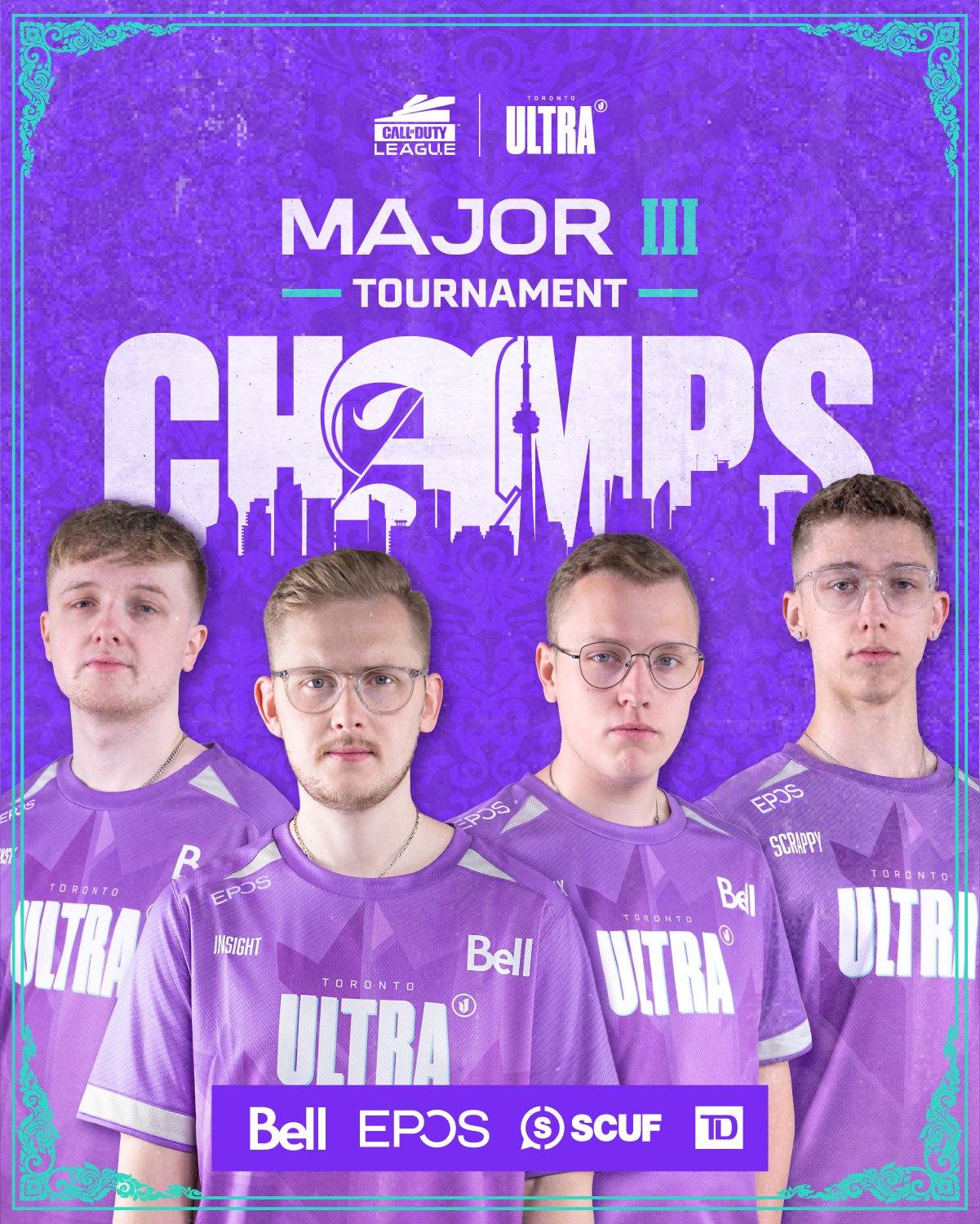 ATLANTA FAZE: B+
The defending Major II Champions had a strong start to their title defense. Atlanta had a 3-0 sweep of the Los Angeles Thieves in Winners Round 1 followed up by a nail-biting 3-2 victory over Seattle. FaZe secured themselves a Top 3 placement at a Major for the eighth straight time dating back to Major V in Cold War. They entered Championship Sunday with a 15 game win streak in Search and Destroy, but saw that come to an end vs Toronto in the Winner's Finals and lost the series 1-3.
Although they were able to get back in the win column for SnD, that's the only map they took against a streaking OpTic Texas squad in the Losers Finals. A 1-3 defeat vs their rival was yet another example of their ongoing struggles against the Green Wall.
BOSTON BREACH: A-
Major III was the first event in which Boston Breach made it to Championship Sunday in Franchise history. An impressive feat considering they're only in their second year of competing in the CDL and the team features a Rookie AR (Beans) and 2nd year Sub (Nero). They silenced the home team crowd in a 3-0 Sweep vs OpTic in WR1 but wouldn't have the same success when they faced each other again for a spot in the Losers Finals. Boston was sent to Losers Bracket at the hands of Major III Champs, Toronto Ultra in a close five map series.
The Breach certainly took another step forward and have cemented themselves as legitimate contenders for the remainder of the season. Along the way, they may have earned some more haters after having knocked out the Vegas Legion who were looking to make a Cinderella Story run through Losers Bracket.
FLORIDA MUTINEERS: B-
After a rough Stage III filled with roster moves, expectations were low headed into Major III. It looked certain that the Mutineers would be bounced in LR1 considering they were set to face the loser of Toronto Ultra and New York Subliners. NYSL was knocked down to Losers Bracket and to the surprise of many, Florida defeated them in a 3-0 sweep. Mutineers next opponent was OpTic Texas, a team they have consistently given trouble to. The upset was not in the cards for this match up and as most know, OpTic made it all the way to the Grand Finals.
The additions of Capsidal and Felo along with bringing Brack back onto the roster seems to have been the right moves for this team. Havok is the stable presence for this squad and moving forward, they will be a tough match for anyone.
LAS VEGAS LEGION: B+
Vegas was on the cusp of their first ever WR1 start at a Major but fell just short. Most of us wouldn't have been surprised had they just been bounced from LR1 and out of the tournament. Instead, they competed with the same intensity they had during the qualifiers and made a legit run through Major III. A favorable LR1 match vs LAG went their way although it certainly was anything but ordinary. Arcitys had to stop playing due to a lingering hand injury which led to Coach Marky B having to sub in (more on that later). The LR2 matchup vs LAT had one of the greatest HP comebacks of all time which was a driving force for the Legion to secure a Top 6 placement.
Eventually, they ran out of gas in their LR3 matchup vs Boston Breach and bowed out of Major III. When you have players like Clayster on your team, of course expectations are going to be high. But, considering the poor track record of the Legion Franchise within the CDL, this squad far exceeded expectations and provided us all with a very entertaining Cinderella Story run.
LONDON ROYAL RAVENS: C-
A grade higher than a D might seem a bit too high for this Royal Ravens Squad, but hear me out. There's no way to sugar coat a LR1 exit, but you can shine a light on their performance in that match. London was in for a tough matchup regardless (Loser of Boston Breach vs OpTic Texas in WR1) and they knew it. Boston swept OpTic which guaranteed LRR would be taking on the home team with their backs against the wall at their home Major. Nastie had an impressive showing but it wasn't enough to carry the entire team to victory. The Ravens had OpTic on the brink of defeat heading into Map 4 where they had a 2-1 Series Lead. A few kills towards the end of the Map 4 HP went in favor of OpTic and they were able to save their tournament hopes and make an impressive run from LR1.
Since Major III, London has decided to drop PaulEhx in favor of Uli from Challengers. This move means that all players from the Challengers Open Major II Champs squad have been called up to the CDL. Uli is a much better fit to play SMG then PaulEhx and the Royal Ravens are hoping this move will rejuvenate Asim and have him back to playing at a high level.
LOS ANGELES GUERRILLAS: C+
No team had a more controversial performance at Major III than LAG. They managed to start in WR1 but their first match was against the #1 seed, Seattle Surge. The Guerrillas didn't go out as easily as most expected and managed to push Seattle to a Map 5. Drama ensued throughout their LR1 battle against the Vegas Legion. As previously mentioned, Arcitys was only able to complete one map in the LR1 Series before having to be subbed out due to an injury. The next man up was Head Coach Marky B and all things considered, he did not disappoint. LAG managed to pick up an offensive round win on Fortress Control which even for the best teams in the CDL is no easy task.
Spart eventually was brought in as the sub to finish the series but by then, Vegas had the win all but secured. It's hard to fully judge this squad based on the circumstances but at the very least, they gave us some exciting moments in their two losses at Major III.
LOS ANGELES THIEVES: D
LAT gave us one of the most impressive Lower bracket runs to date at Major II before eventually being defeated by ATL in the Grand Finals. The Thieves were hoping to have similar success at Major III after a solid Stage III qualifiers that featured victories over FaZe and Surge. Needless to say, they were unable to mount a similar run and their performance was far below the expectations we have for this roster. FaZe picked up where they left off in the Major II Grand Finals and sent Thieves to the Losers Bracket in a 3-0 sweep. LR1 was set for a matchup against the struggling Minnesota ROKKR and LAT was able to regain with a sweep victory of their own to advance.
Vegas was the team to send the Thieves home from Major III and did so in impressive fashion. The aforementioned HP comeback victory was the start of a 3-1 series win for the Legion and the end of the Thieves time at Major III. The grade may seem harsh considering it's lower than some teams that didn't win a series at all, but everyone knows what LAT is capable of and this tournament was far below expectations for the defending CDL Champs.
MINNESOTA ROKKR: F
The grade for Minnesota speaks for itself and is the best way to describe their performance since earning a Fourth Place finish at Major II. ROKKR went winless throughout the qualifiers (0-5 record) and added an eighth straight loss at Major III in LR1 vs LAT. Five of their last eight matches have ended in a sweep and many have began to question whether it's a player or coaching issue. A roster consisting of Attach, Cammy, Afro, and Bance is far too talented on paper to be performing the way that Minnesota is right now. Change is needed in one way or another and it will be interesting to see how they work to overcome this cold streak.
NEW YORK SUBLINERS: D-
Unlike Atlanta FaZe who managed a Third Place finish after winning Major II, NYSL hasn't been able to hit the same level of play that they displayed at Major I. Stage III was a weak showing overall for this squad that has set the bar high for themselves after a hot start to the 2023 Season. Their qualifiers were up and down and the only solid win was a 3-0 sweep vs OpTic Texas. They placed into WR1 for Major III but were knocked out of the tournament with a 8-12th placement. WR1 was a matchup against the eventual Major III Champs, Toronto Ultra. NYSL took the L 1-3 against a team that (at the time) was trying to beat the "Onliners" accusations. This sent them into a seemingly favorable LR1 match vs the Florida Mutineers who were fresh off of some roster changes.
The Subliners were unable to shake the poor performance from WR1 and by the time Havok was doing pull-ups in the Fortress SnD, you knew this match was chalked. Florida had a stellar performance and were able to double first round the Major I Champs and knock them out of Major III. A winless performance at a Major for any team is not acceptable, but it is especially a poor showing for a team as talented and capable as NYSL. I previously wrote a hot take that NYSL had "peaked" at Major I and that they would not be able to replicate that performance. So far, I feel very confident in this prediction.
SEATTLE SURGE: C
Surge were the #1 seed headed into Major III and arguably the favorite to win the tournament. Their performance during the qualifiers may have been skewed in hindsight considering only two of their matchups (LAT and NYSL) were against competition that plays to their level. The one player who can be excused from any shortcomings for this squad would be Pred. The 2nd year Aussie is having an MVP caliber season and put on some impressive performances at Major III. WR1 was a closer matchup then most expected, but the Surge were able to advance to WR2 after a five map series vs LAG. Upon going down 0-2 vs Atlanta, Seattle dug deep and hit top form to push the series all the way to a Map 5 Round 11 SnD. Atlanta managed to keep their impressive SnD win streak alive and send Seattle down to the Losers Bracket.
They faced off against OpTic Texas in a match to determine who would make it into Championship Sunday and earn at least a Top 4 placement. The Green Wall buff was too much for Seattle and they were defeated in a 1-3 series to place Top 6. The only map they managed to win was Control as OpTic took Maps 1,2, and 4 to win the series. There's no doubt that Seattle is a talented squad that has the ability to make a run at each Major, but questions loom as to whether Pred needs more help to get them over the top.
OPTIC TEXAS: A
Home Crowd advantages are alive and well in the esports world and this was on full display at Major III, hosted by OpTic Texas. Boston Breach silenced the home crowd in WR1 with a 3-0 sweep over the home team. What followed was the equivalent, if not better, than the LAT run at Major II. From LR1, OpTic battled their way through some of the CDL's best to earn a spot in the Grand Finals. Lots of uncertainty surrounded this squad with Ghosty playing in his first CDL LAN but he certainly rose to the occasion.
It took five straight match victories to make it into the Grand Finals vs Ultra and it was the team you wouldn't suspect that gave them their toughest battle. OpTic faced LRR in LR1 and after going down 1-2, managed to regain and win the series. The Green Wall then put up a 12-4 Map Count over their next four matches, winning all four series by a score of 3-1. After taking down their LAN kryptonite, Florida, in LR2, OpTic mounted victories over Surge, Breach, and FaZe to earn a Top 2 placement at their home major. Dominant performances in Hardpoint are what powered this squad, but they burnt out in the Grand Finals match vs Ultra, losing both HP's and the overall series by a score of 2-4.
TORONTO ULTRA: A+
I promise you this grade has more to it then simply, "Ultra won Major III." Similar to OpTic, Ultra also had a rookie (Hicksy) playing in his first CDL LAN event after replacing Standy in the lineup during the qualifiers. Toronto already had developed a reputation for being "onliners" so far this season, but they have officially beat the case. Scrap and co. became the third team this season to win a Major after making the Grand Finals through Winner's Bracket. Along the way, they defeated NYSL (Major I Champ), Boston, Atlanta (Major II Champ), and finished off the home town team, OpTic Texas by a score of 4-2.
Throughout this season, Toronto has been considered one of the top contenders. The victory at Major III has made that statement felt across the league and it shows that one move can make a world of a difference for an already solid team. Hicksy brings out the best in his Ultra teammates and this squad will be looking to repeat at Major IV. A tall task considering we haven't had a repeat tournament winner since LAT did so at Major IV and CDL Champs in Vanguard.