CDL Power Rankings: March 2021
How we ranked the teams: Breaking Point's panel of 8 writers and staff evaluated how teams performed in the stage 1 group matches and the stage 1 major.
1. Atlanta FaZe (8 – 0)
Finishing with an 8-0 record, FaZe had a perfect run in Stage 1 and dominated in the grand finals against Dallas. Their teamwork in respawn and execution in SnD cement them as the current best team in the game. The tiny terrors have kicked off the year red hot, and show no signs of slowing down.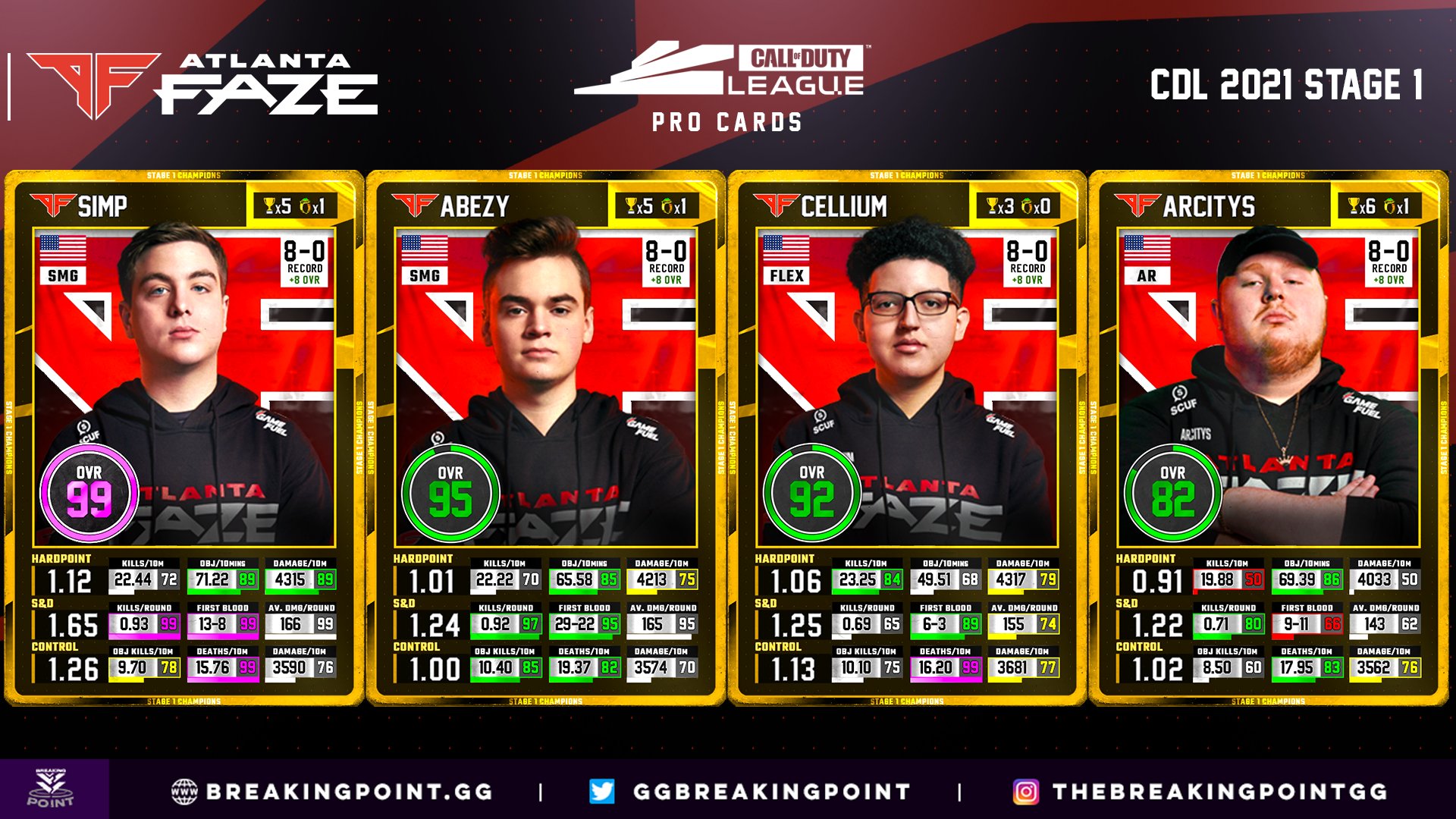 2. Dallas Empire (6 – 3)
The Empire are the second-best team. While Empire were not able to beat FaZe, they managed impressive wins against OpTic, New York, and LA Thieves. Huke has been an MVP type player for Empire so far against anyone but FaZe, so look to the others, especially last year's MVP, Shotzzy, to step up if they want to take the number one spot.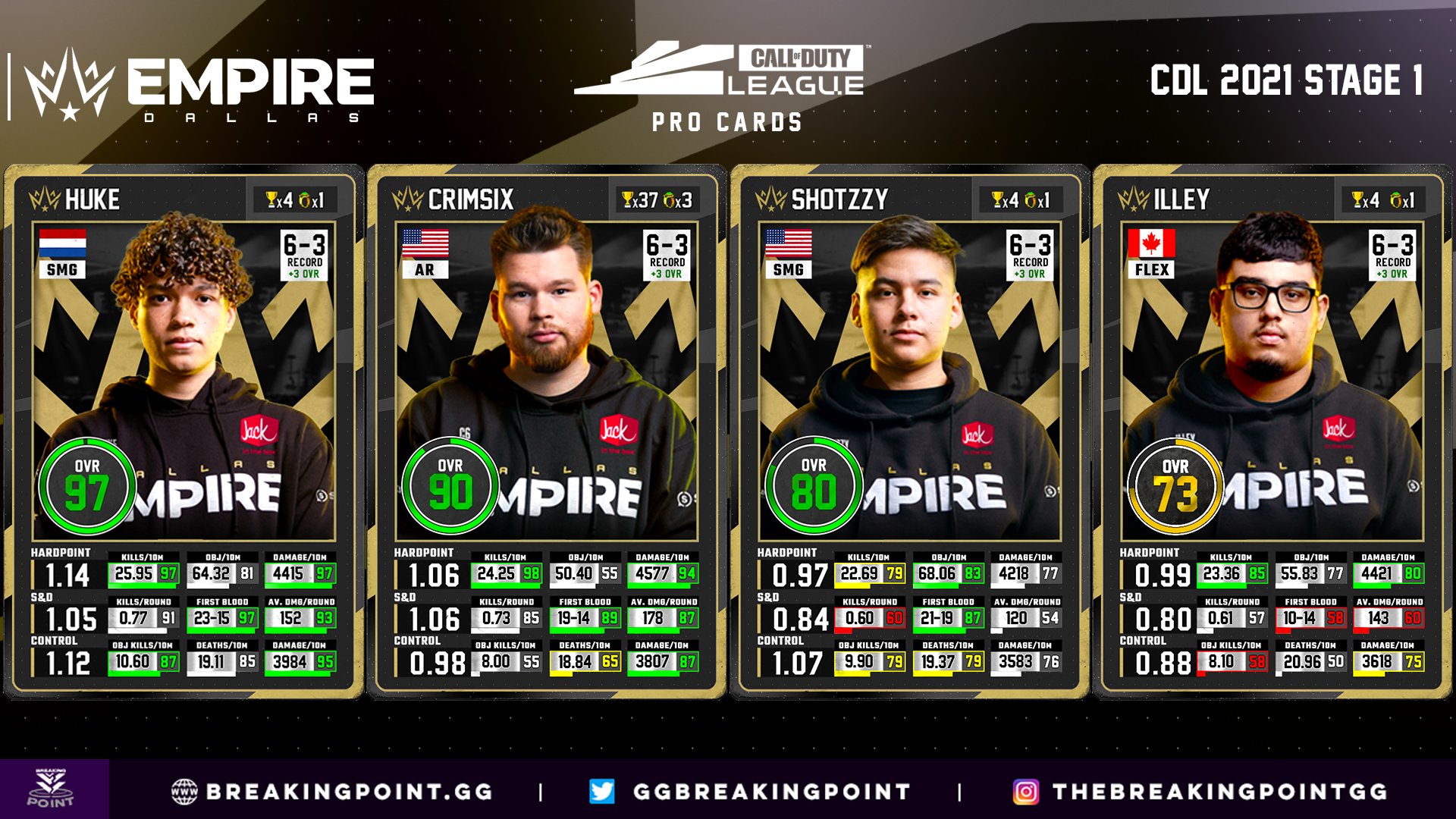 3. OpTic Chicago (6 – 3)
Putting Optic third is a difficult decision to make and will likely stir up controversy and resentment for Subliners fans after NYSL defeated OpTic 3-0 at the Major. However, OpTic also beat the Subliners in a dominant 3-0 earlier in the tournament and went to map 5 against both FaZe and Empire. OpTic is an extremely consistent respawn team, but needs to bolster their SnD if they want to contend with the top two teams in the game.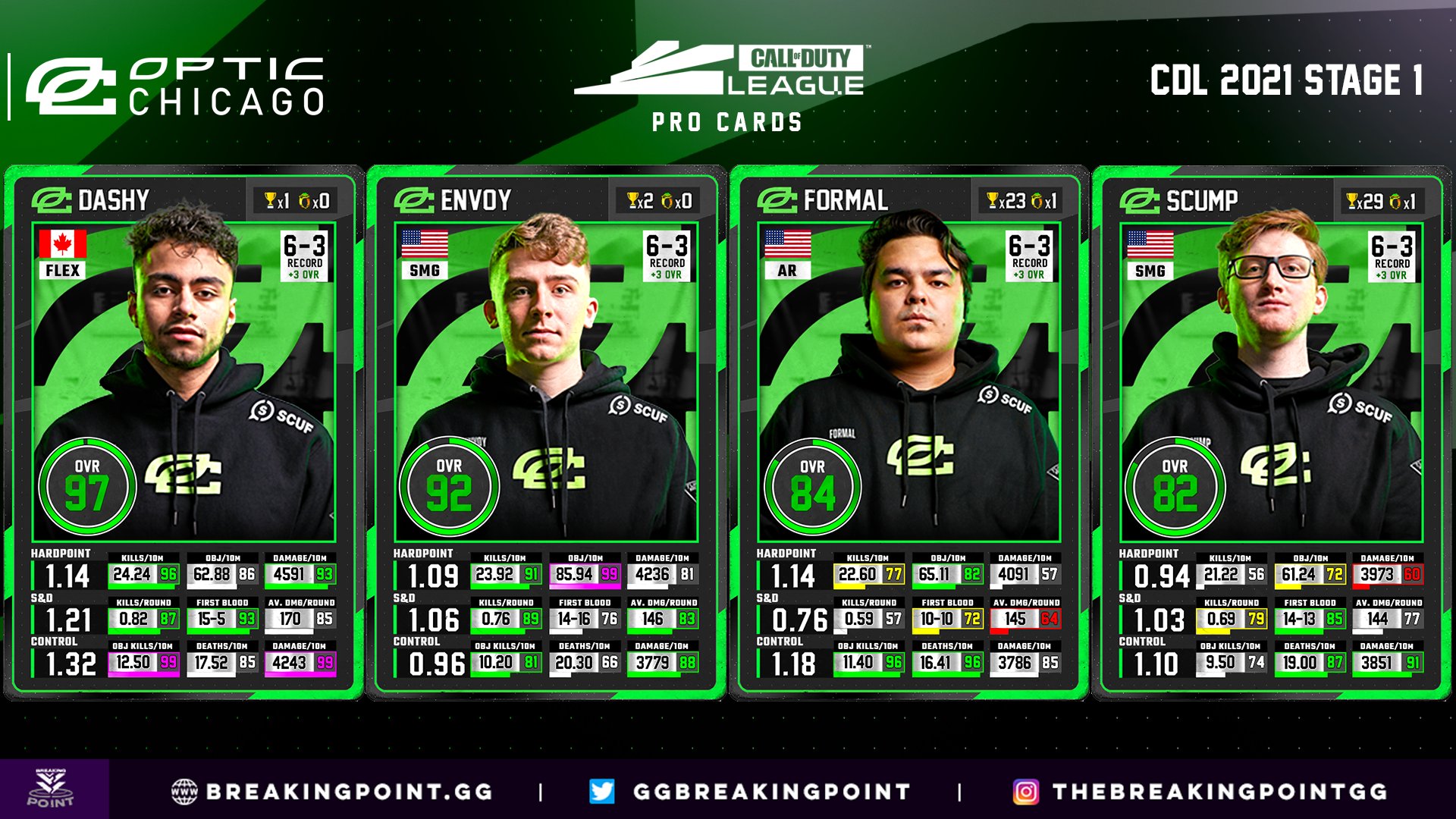 4. New York Subliners (6 – 4)
The Subliners really impressed with a 3rd place finish in the Stage 1 Major with little time to practice. As mentioned above, NYSL traded series with OpTic and also played the Empire closely in their first matchup. One major issue for Subliners is consistent production. At times throughout Stage 1, at least one NYSL player struggled to keep up with the rest of the team. This was the case in the team's losses against slay-heavy teams in OpTic, Empire, and LA Thieves. With more time to practice and an exciting prospect on the bench in HyDra, the future is bright in the Big Apple.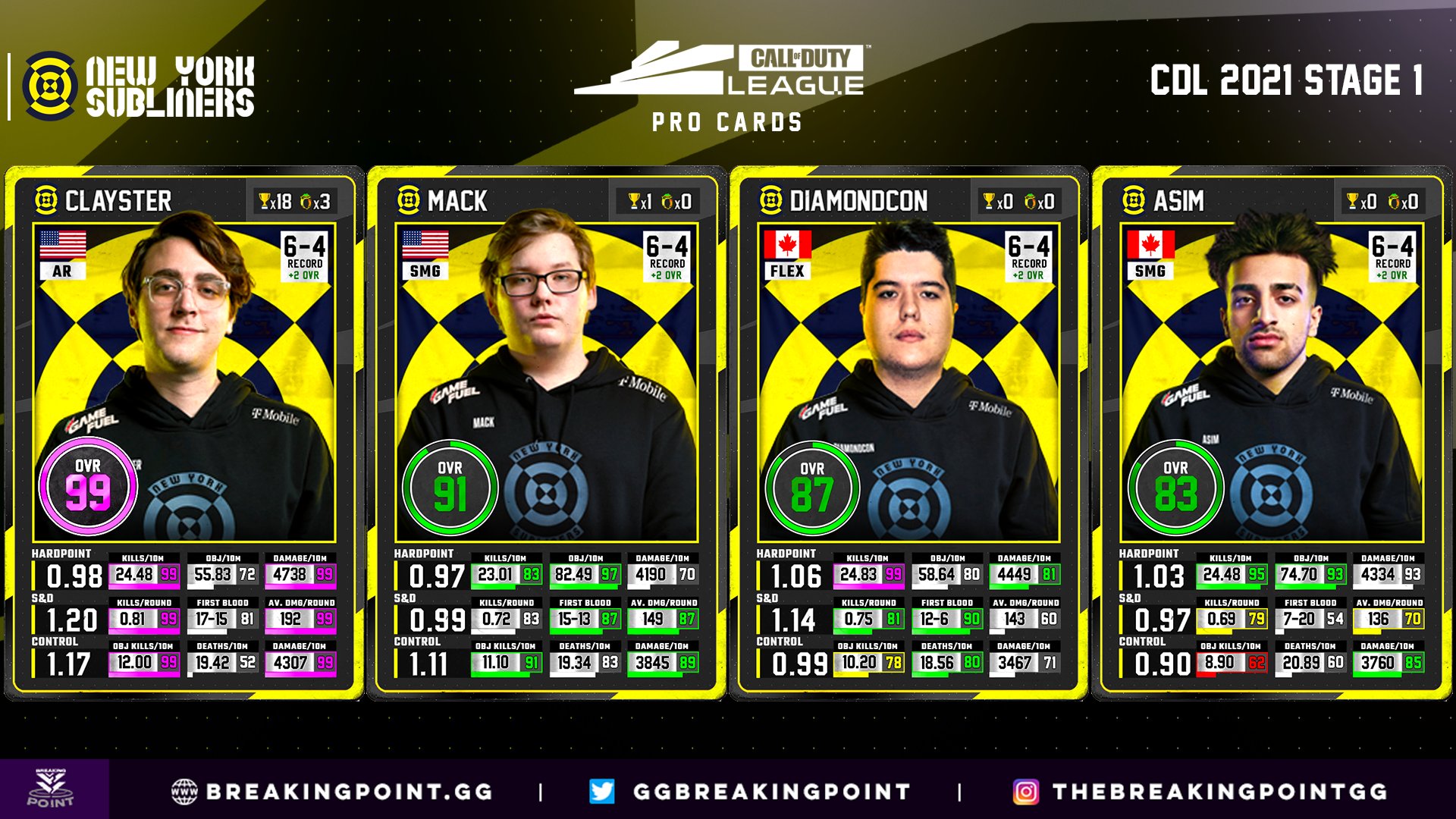 5. LA Thieves (5 – 3)
A 5th/6th placement for the Thieves is underwhelming for LA's reintroduction into Call of Duty, especially given the organization's rich history of top performances. The LA Thieves have only lost three series so far, against the Empire, OpTic, and a surprising 3-0 defeat at the hands of LAG. Outside of those three losses, they have looked dominant and have shown incredible slaying power. One observation from Breaking Point: Momentum is important for this Thieves team. Starting off a series hot will be the major key to success for them this season.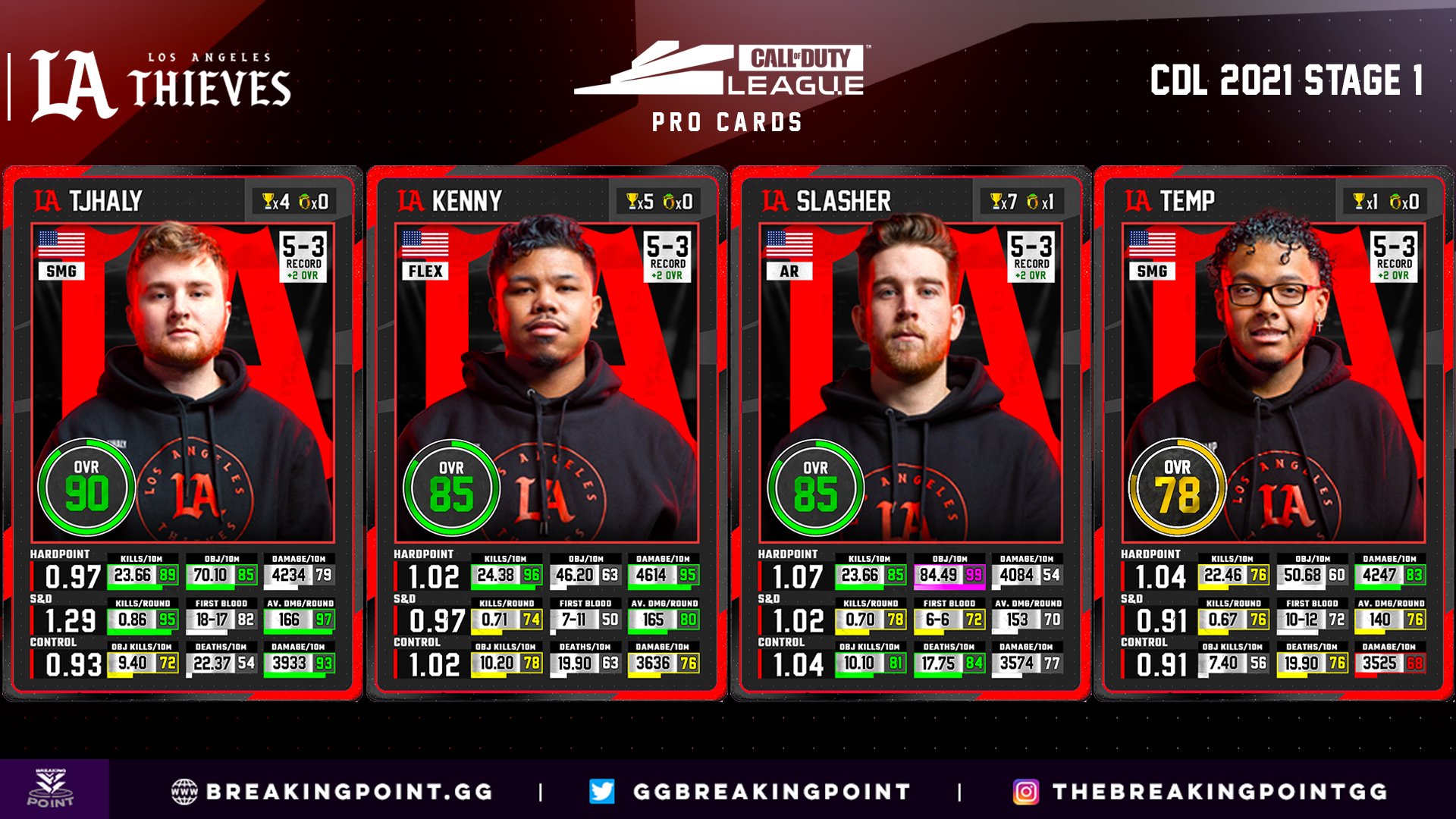 6. Los Angeles Guerillas (3 – 5)
LAG has been the big surprise of the Major after barely making it through groups and mustering a relatively low 38% map win rate in groups. But when it came time to deliver, they beat the LA Thieves 3-0. The Guerrillas came into that series as the more practiced team and had a clear game plan against the Thieves. For LAG, preparation is never a concern, but in order to become a top team, the other players need to match Vivid's level of aggression.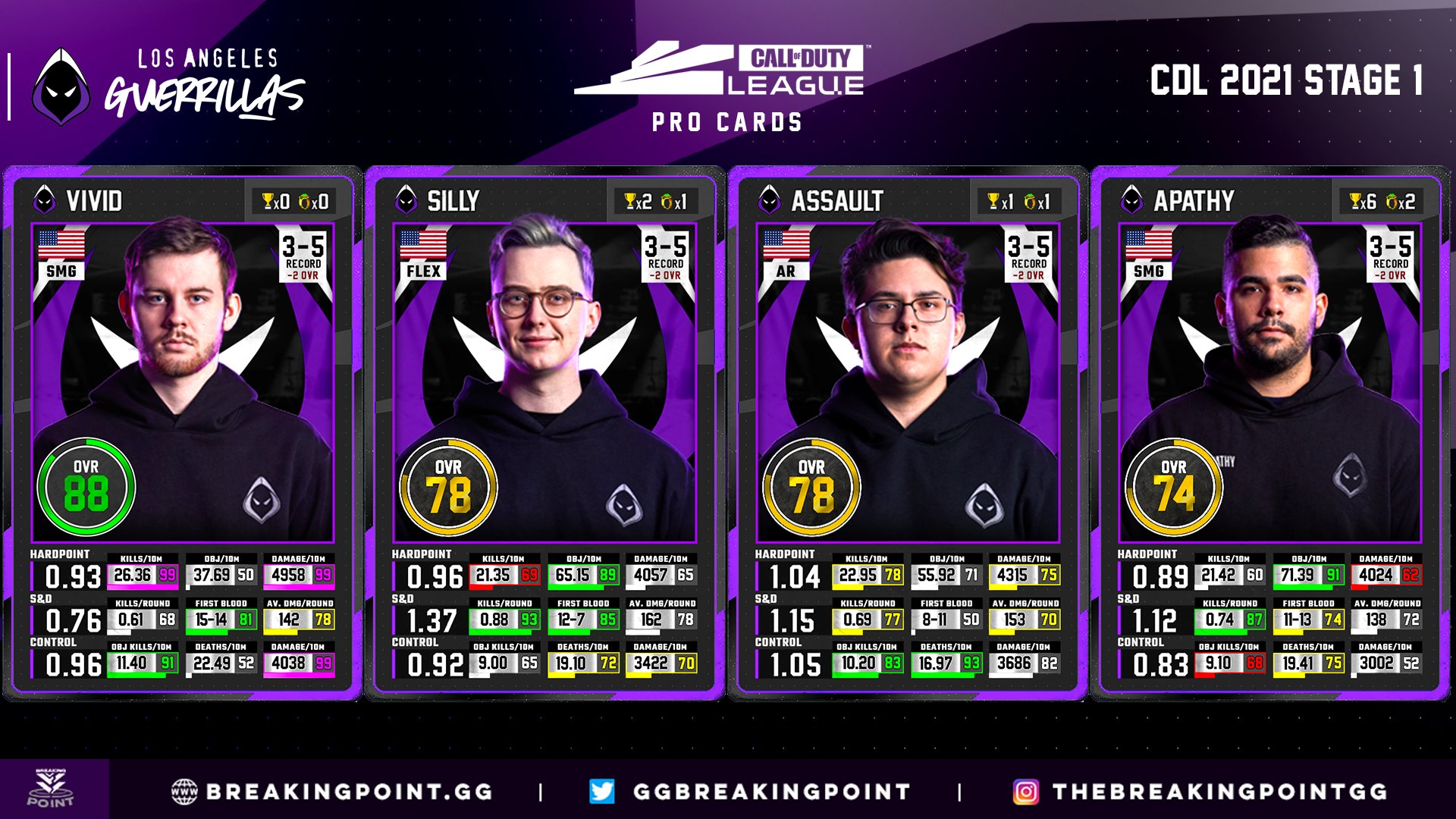 7. Florida Mutineers (3 – 5)
After Florida beat Atlanta in the pre-season kickoff classic, there was a lot of hype for the team and for the team's rookie player, Neptune. However, Florida was unable to carry this momentum into Stage 1 as they finished at the bottom of their pool. The team's performance at the Major reestablished Florida as a dark horse team, beating Seattle and Paris before getting reverse swept by NYSL. The Mutineers still have work to do to be able to take a series off of the top teams, but they have shown some overall positives: Owakening is one of the best SnD players in the game and newcomer Neptune continues to show flashes of brilliance.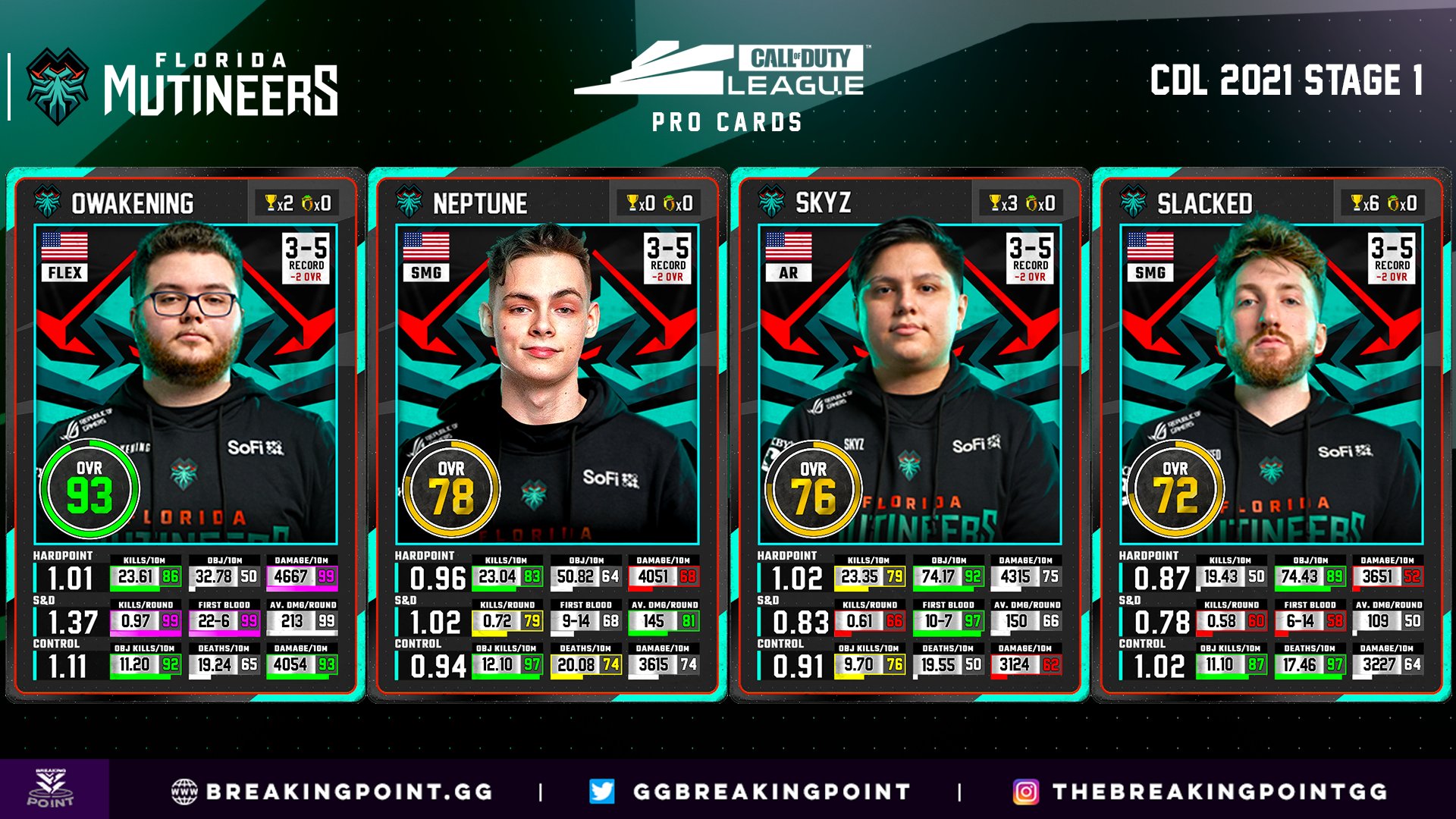 8. Paris Legion (2 – 4)
For a roster thrown together late into the free agency period, Paris have actually shown progress and upset potential. They've taken FaZe and LAG to game 5's and played Florida close as well. Fire showed significant improvements from Stage 1 to the Major and Aqua is a headshot machine. Right now Paris are not clutching up when they need to, but if they can find a way to close out maps, they can be even more of a threat.
9. Minnesota RØKKR (3 – 3)
For the level of talent on this team, RØKKR has been underwhelming thus far. Their only wins have been against London, Seattle, and an impressive upset win against the Empire where they managed to steal a respawn. They have been one of the best SnD teams in the game so far, but the saying "SnD's win championships" has not worked out for this team. To be fair, RØKKR only lost a single series in the major, and are 3-3 on the season, but until they step up in respawns, they will continue to struggle.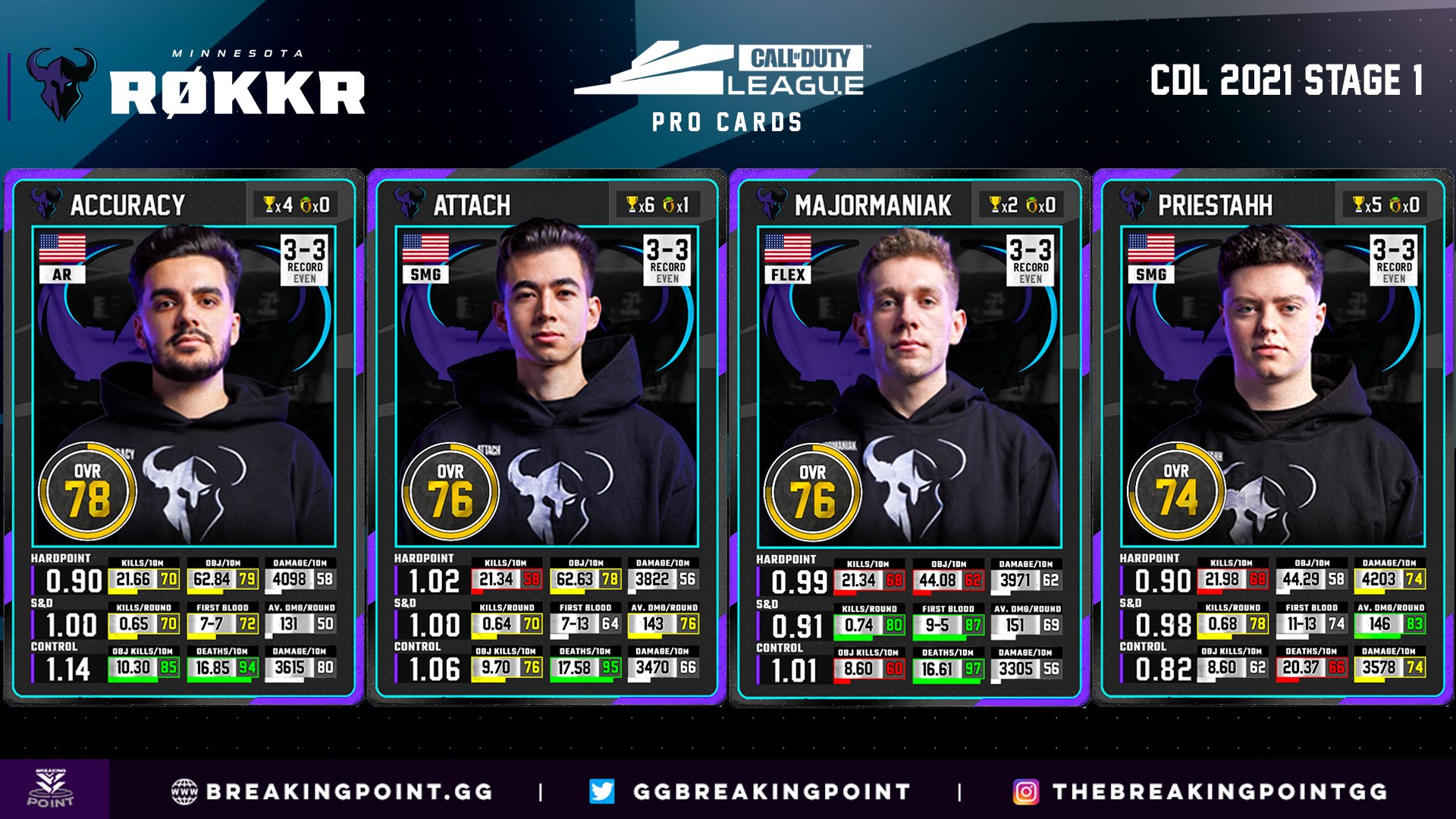 10. Toronto Ultra (3 – 5)
The Ultra have disappointed so far, being the only team outside of the Empire to keep the same roster of four players from last season. Ultra fail to efficiently trade kills and have consistently collapsed towards the end of maps. For Stage 2, Ultra have decided to bench Methodz and start the rookie Insight. We look forward to seeing if this roster change will improve Ultra's teamwork and move them up the rankings.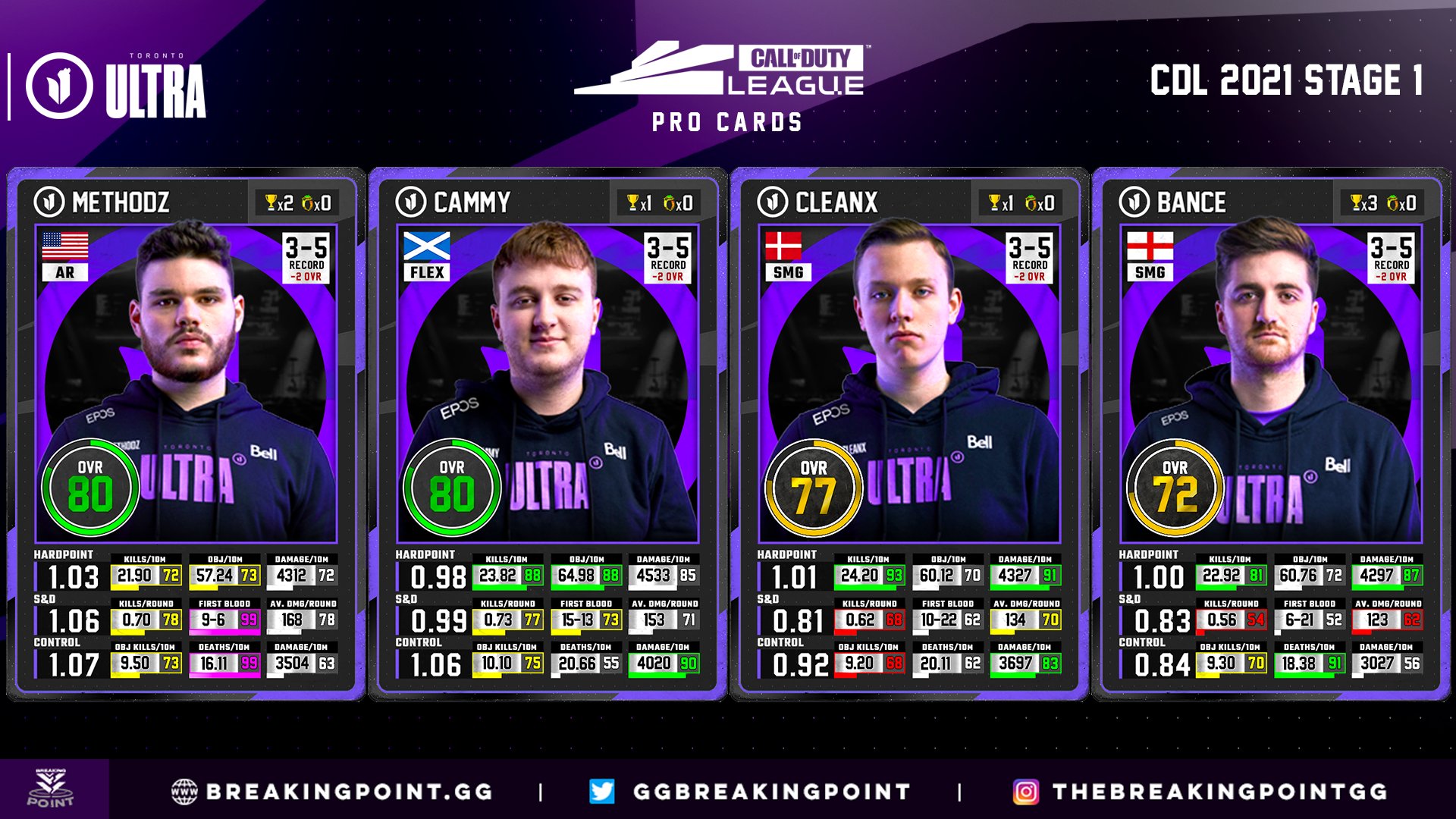 11. Seattle Surge (1 – 5)
Surge have continued their poor performances from last season, and it might even be more worrying this season. Last year, Surge could look to Octane for superstar performances, but so far Octane's individual skill has not been enough to close out matches. Surge's only victory this season was a close win against London (3-2). They stretched LA Thieves to a 5 map, but overall, it's once again looking dire for Seattle Surge.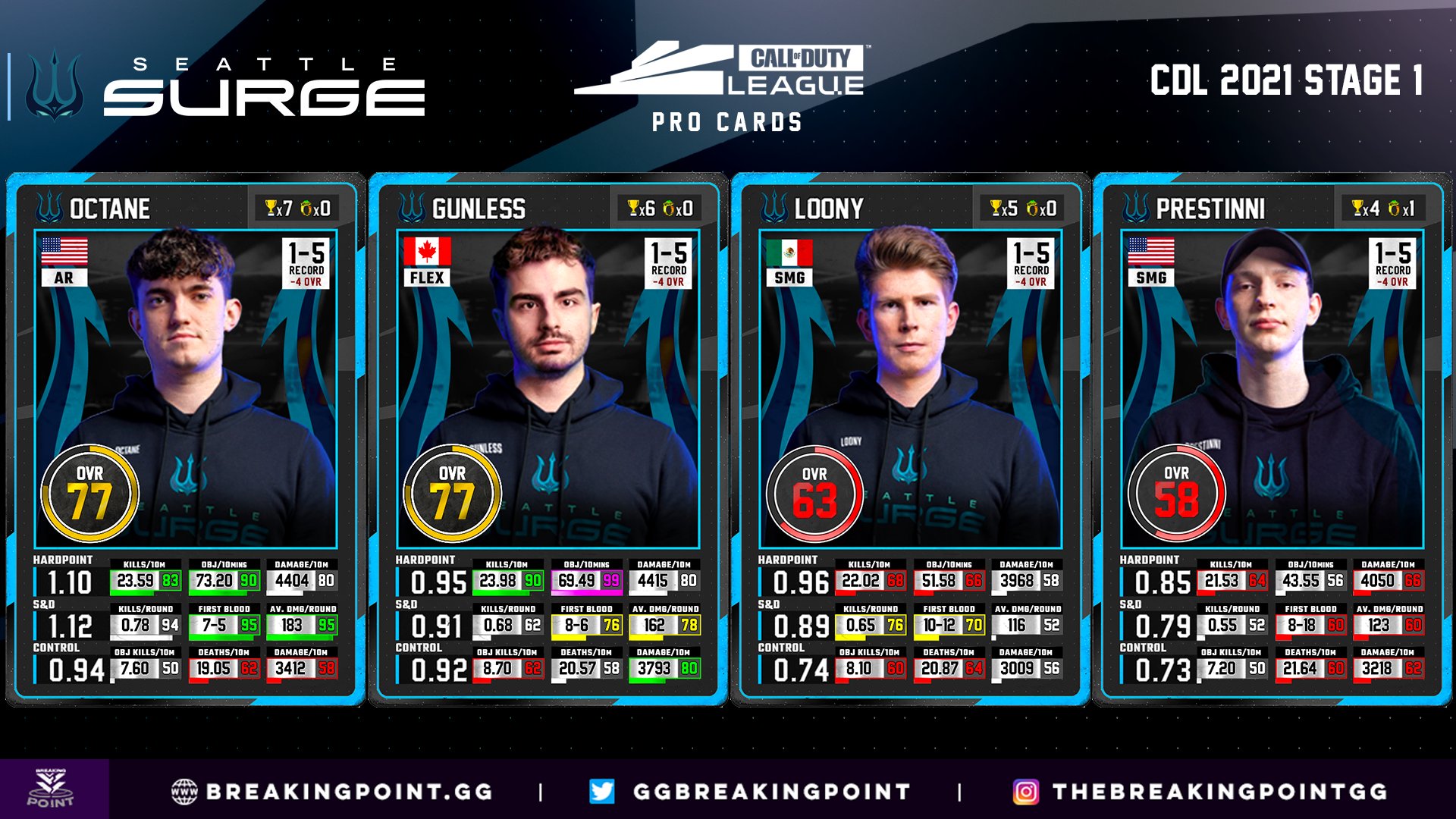 12. London Royal Ravens (0 – 6)
The Ravens are currently winless at 0-6. They have yet to win a series, and it has been especially challenging with their personnel woes: Zer0 and Afro are unable to obtain visas, and Alexx has returned to the UK for personal reasons. With those external circumstances in mind, it is difficult to fault this London team. However, fans are upset, and will remember the decision to drop Skrapz and Wuskinz after placing top four at Champs last year. The Ravens have pushed several teams to game 5s, including the Empire, so there is hope, but as of now, the mantra remains: "no twins, no wins."