CDL Power Rankings: August 2021
How we ranked the teams: a panel of 10 Breaking Point writers and staff evaluated how teams performed through the CDL Stage V Major. The previous CDL Power Rankings (June 2021) can be found here. Current CDL standings can be found here.
Previous Rank: 1 (
)
CDL Points: 525 (+60)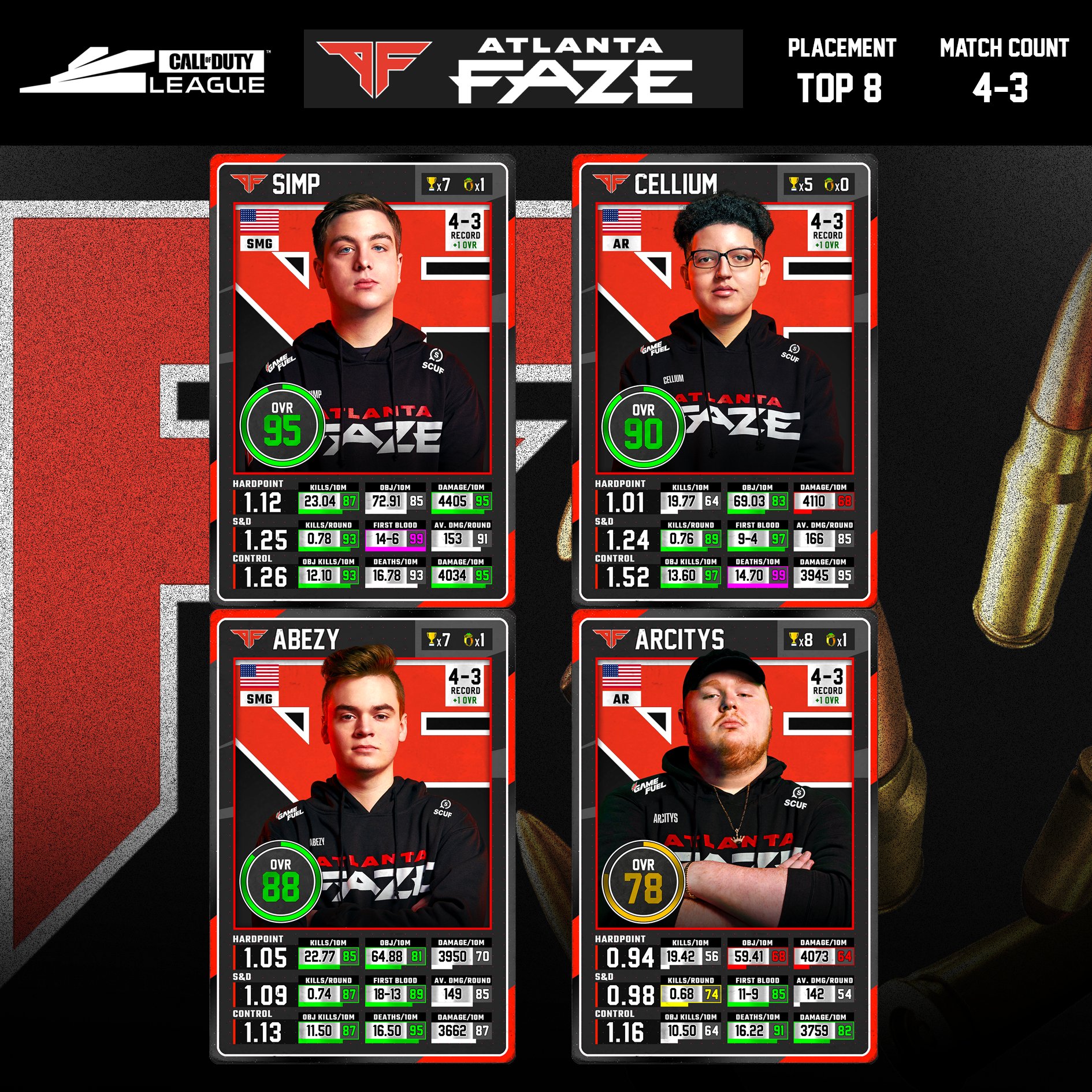 Despite retaining the #1 spot in the power rankings, Stage V was a bumpy road for FaZe. They went 4-1 in groups to start, losing only to OpTic. Then, they were double rounded out of the Major by RØKKR and Seattle to finish in 8th place. Lowest tournament placement in the team's history. Is this a pre-Champs slump? Are they experimenting for the big one? It's hard to say. Individually, the players are still putting up numbers and FaZe is still the best Control team in the League (6-1 this stage). There are no major cracks. Even after losing at the Major, FaZe broke their own win streak of 11 wins by rattling off 13 straight wins in Stages III thru V.
Key Takeaways: FaZe have been the #1 team for a long time. They've been #1 in every one of our power rankings this season. There is a plethora of game film on the way FaZe likes to play certain maps. Even though RØKKR and Seattle were able to get the jump on FaZe, there is no doubt that this team has all the right tools to recover in time for Champs.

To put the season in context, FaZe dropped almost as many series this stage (3 losses) as they have all season (4 losses). They've won 3 Majors this season, and have the most robust coaching system in CDL. This is still a team with Simp, aBeZy, Arcitys, and Cellium. They've been the dominant team all season. If they clamp down for playoffs and win the big one, this team will undoubtedly go down in CoD history as one of the greatest and most talented teams of all time.
Previous Rank: 2 (
)
CDL Points: 415 (+100)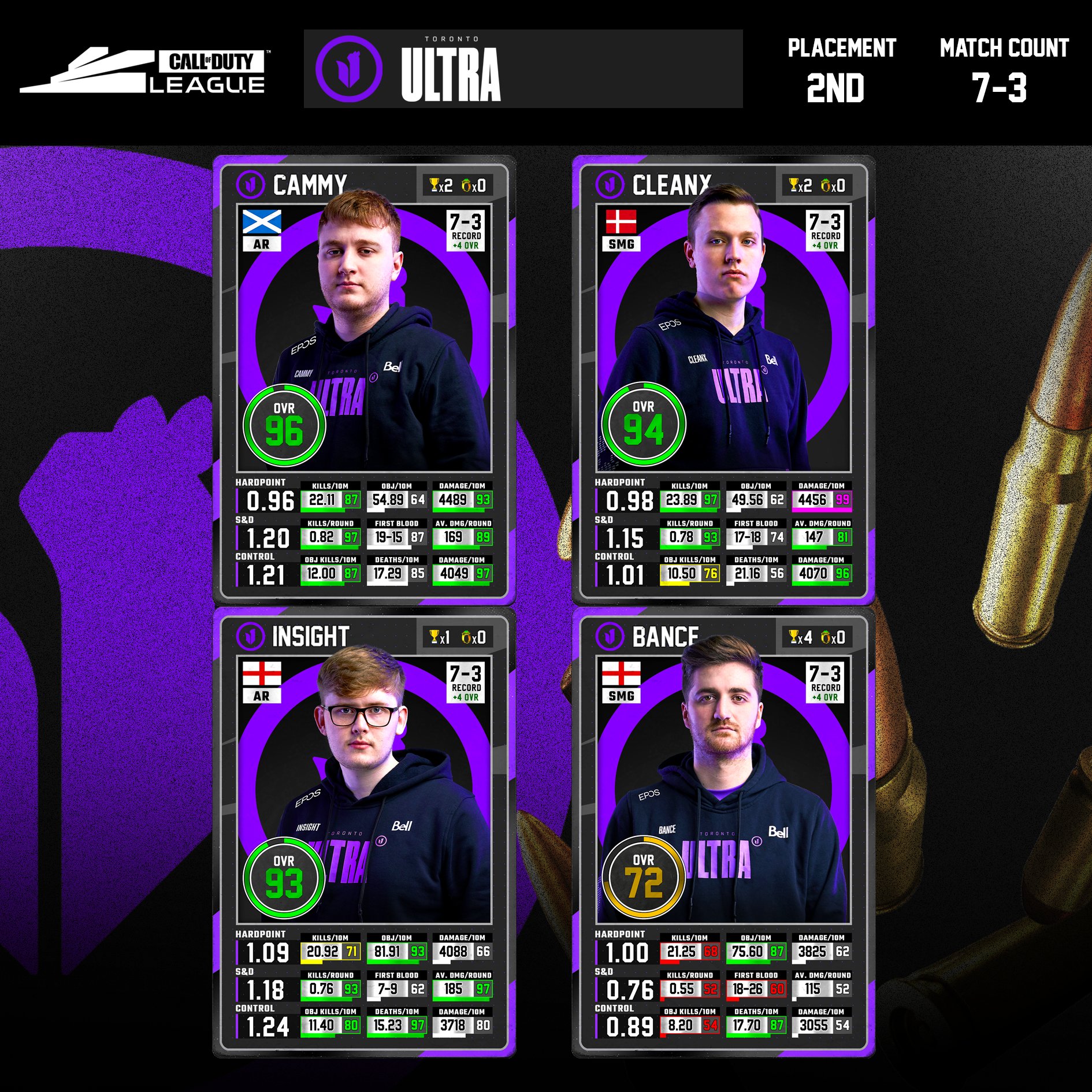 We called for consistency from Ultra way back in Stage II. Ultra have been one of the most consistent teams in CDL this season. Since Stage II, Ultra have the highest average (2.25) Major placements in the League (#1, #3, #3, #2). Now let's get into the ugly… the worst reverse sweep of all time. Against OpTic in winners and losers, the team looked unstoppable. But in the finals, against RØKKR, they lost all momentum. In a way, there is a similar but lesser FaZe effect at play with Ultra. Both teams have played so many maps at a high level that teams are now learning how to counter and game plan against them.
Key Takeaways: The key question for Ultra is, do they still have an extra gear? Bance popped off in Stage II Major finals and Ultra were able to beat FaZe. Since then, they haven't been able to get over the hump. On a per minute basis, Cammy and CleanX are two of the most dominant respawn players in CDL, but the team can struggle to consistently perform together at a high level. In the Major finals, Leading ROTY candidate Insight put up a jaw-dropping 1.44 K/D (+41 kills). Everyone else on Ultra had a negative K/D for the series.

One clear point of weakness this Stage was the team's inability to finish out in close Hardpoints, especially map 1. Ultra went 10-8 overall in Hardpoints, but were only 4-7 on Hardpoint maps in Stage V outside of Garrison. The team's SnD is still top notch, but elite SnD teams like FaZe and RØKKR have been effective at outplaying them on Search over the past few stages. Ultra are the second overall seed going into Champs.
Previous Rank: 7 (
+4)
CDL Points: 305 (+105)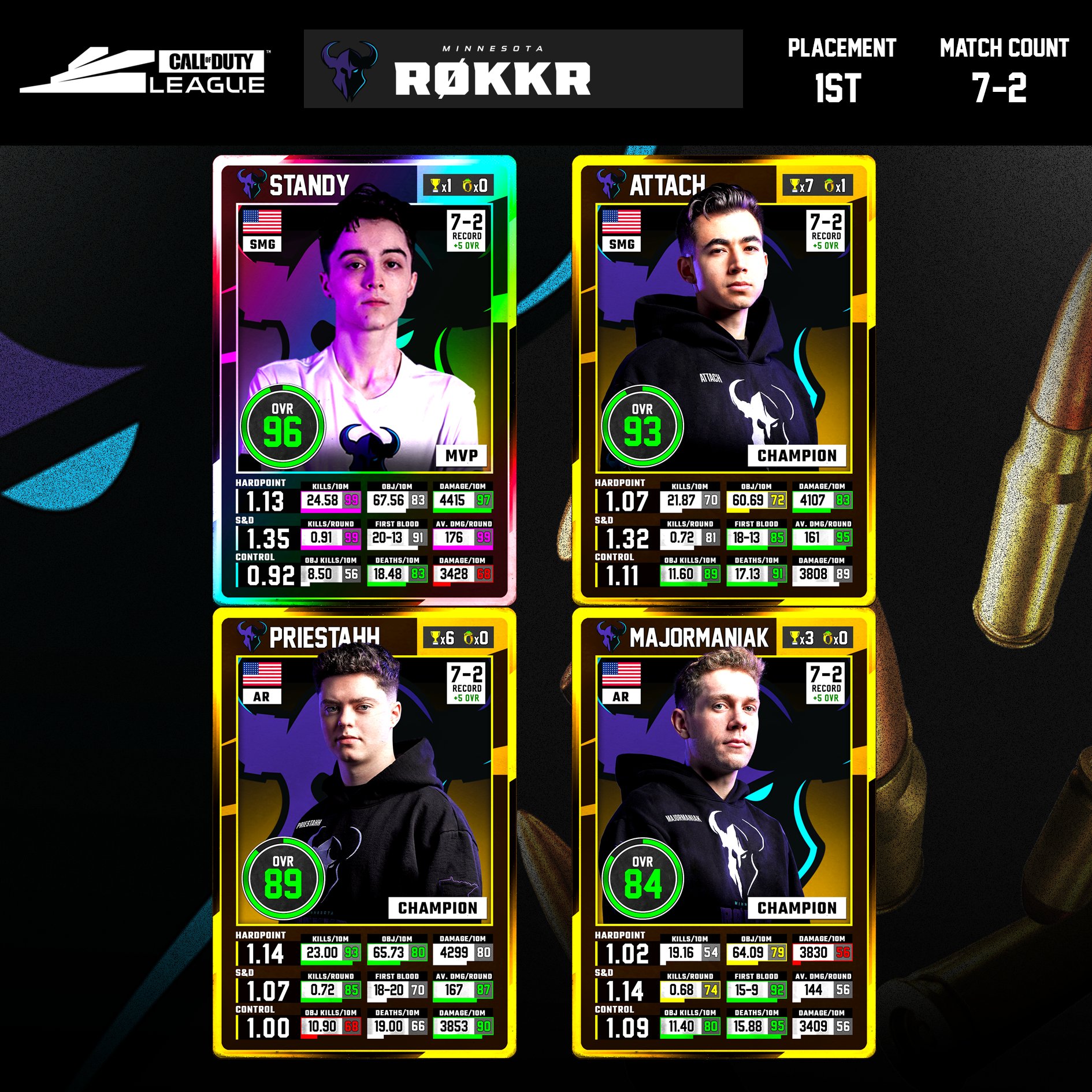 Let's hear it for the Stage V Major Champions! It was a tremendous stage and finish for RØKKR, on LAN, with fans. In June, we mentioned that RØKKR were stuck on the Bifröst, but now, it's clear they were hurtling at lightspeed towards the mythical Ragnarök. Call it the RØKKR Resurrection, call it Ragnarök, it was an incredible experience. The Stage V Major finals was one of the best series since franchising, and one of the best displays of mental fortitude seen in any team. Minnesota are the highest climbers in our final power rankings of the year, climbing four spots all the way up to the #3 spot.

This RØKKR win was a story of a team getting back to their bread and butter from Stage I: SnD, SnD, and SnD. In Stage V, Standy (1.35) and Attach (1.32) were the #1 and #2 SnD players ranked by K/D. Every single player on RØKKR had above a 1.00 K/D in SnD this Stage. With a 10-2 SnD record, RØKKR were by and far away the best SnD team in Stage V. The importance of SnD is further highlighted in the best-of-nine format used in CDL grand finals, which includes 4 SnD maps, and 3 out of 5 last maps in a BO9 series.
Key Takeaways: The big question for RØKKR all year has been consistently winning their Hardpoints. This stage, they posted a positive Hardpoint record, and were able to take both Hardpoints against FaZe in WR1 and both respawns against Ultra in winner finals. In the span of two months, RØKKR have gone from dark horse Champs contenders, to a legitimate top team in the League. Whether they continue the run at Champs depends again on the consistency of their Hardpoint. They have positive records in SnD (27-21) and Control (23-15) on the year, but are only 25-37 in the Hardpoint. If they come out in Major V form, RØKKR will be a force to be reckoned with and a favorite to repeat.

Also, shoutout to Standy. He was the X-Factor for RØKKR this stage and his masterful SnD performances have not gone unnoticed. Eli also led all CDL players in HP kills per 10 minutes through Stage V (24.6). He also led all CDL players through the stage in SnD kills per round (0.91). The rookie of the year race is a two man race between Insight and Standy—the better player at Champs reigns victorious.
Previous Rank: 3 (
-1)
CDL Points: 400 (+80)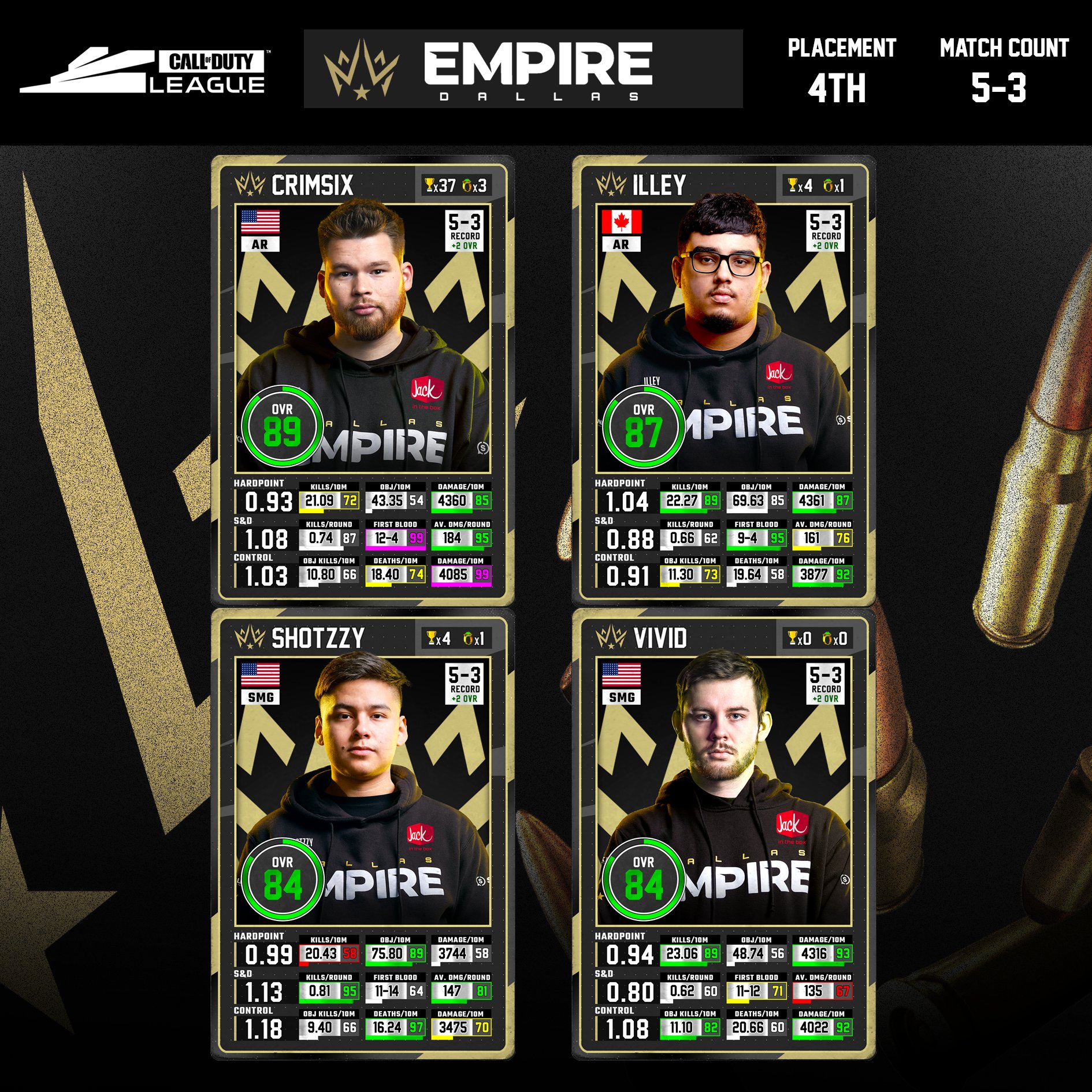 Dallas Empire was the most polarizing team this stage. Voters had Empire as high as #2, and as low as #5 in the power rankings. That sums up Empire's split. They beat Ultra, but also lost to Florida in groups. They looked like the Empire of old at times, but lost to RØKKR and were unable to beat rival OpTic at the Major.
Key Takeways: Something about this team still looks… incomplete. When they're on, you see the incredible potential, like when they pushed FaZe to map 9 in the Major IV finals. But at times, Empire look like they're not firing on all cylinders. They hold positive W/L records on every game mode, almost every stage. That is a testament to the team's consistency. And outside of Stage III, have not placed below T4 at any Major this season. In respawn, Empire epitomizes Crimsix's philosophy of "pressure in waves." But at times, the waves were getting dashed on the rocks. It's just harder to win when you are being consistently outslain. Shotzzy was the only player above a 1.00 K/D in Hardpoint during the stage. While Crimsix has frequently emphasized that "K/D doesn't mean everything," it is difficult to win when a team is being consistently and significantly outslain. If the Dallas guns heat up, and Shotzzy hits MVP form, they can be a dark horse contender to take the Championship.
Previous Rank: 5 (
)
CDL Points: 360 (+90)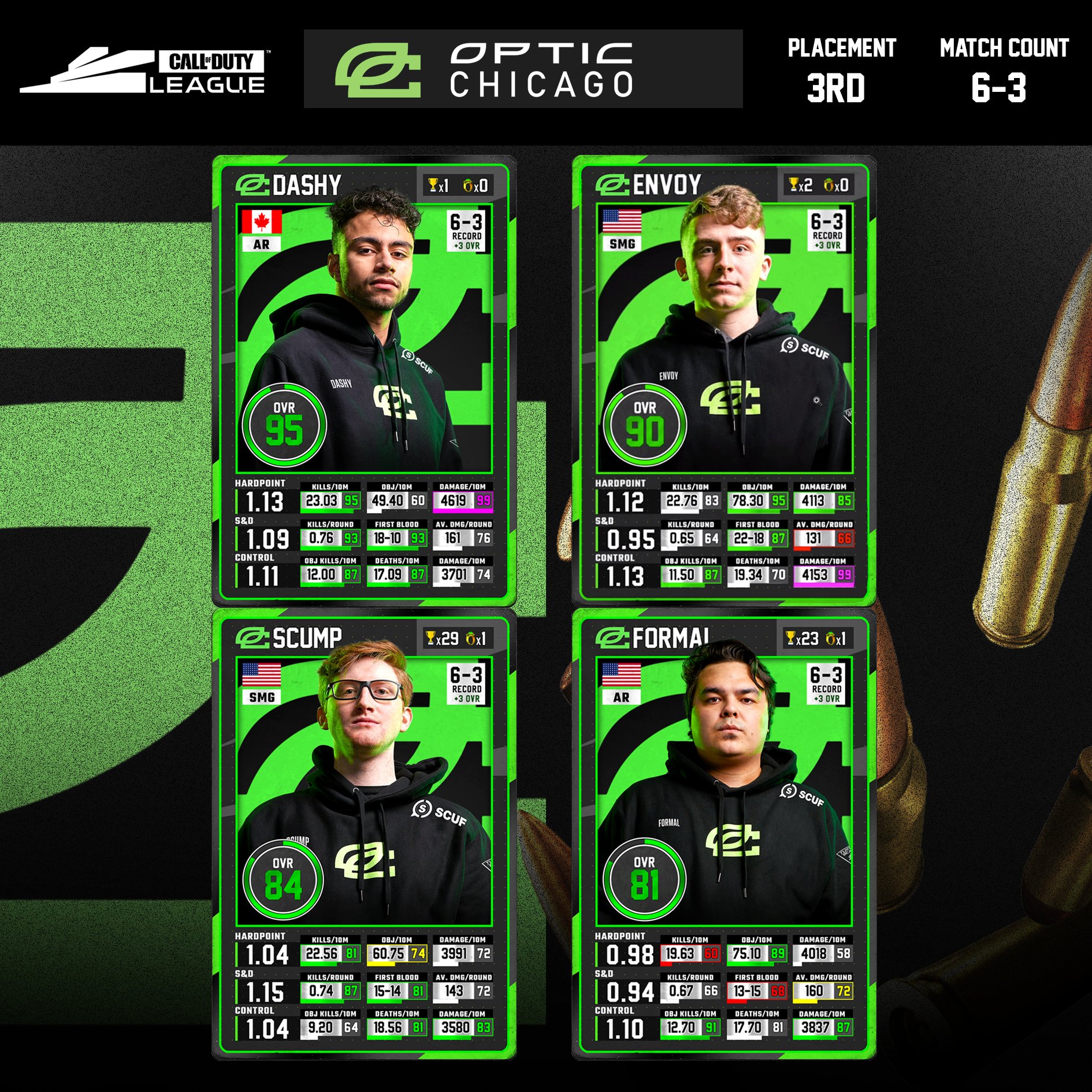 This was arguably OpTic's best stage of the year. They finished as the #1 seed in their group and scored a huge win over FaZe. After losing to Ultra, they made a run by beating a red hot Surge team in losers and knocked Empire out before losing once again to Ultra. It's hard to put a finger on OpTic in terms of overall skill. They finish the regular season at 4th in the standings, but were the only team out of the top six playoff teams to have not made a Major grand finals all season.
Key Takeaways: These guys are Jekyll and Hyde. Based on what we've seen all season, the team thrives on momentum. At the same time, they are so hot-and-cold at times that even in the same tournament, we see two different OpTic teams playing. On the bright side, the team's Control finally hit Stage I levels. At 7-2 on the stage, OpTic were the 2nd best Control team this stage, behind only FaZe. Will they peak at just the right time? We'll see. Unlike FaZe, Empire, Ultra, or RØKKR, this OpTic team have not proven that they can consistently beat the top dogs. Over the course of the season, they are 9-14 against the other top six playoff teams.

And last (but not least), the Green Wall did not disappoint on LAN. We were on the ground at the Major, and an overwhelming number of fans were OpTic supporters. They got loud, they got rowdy, and the Stage V Major felt like the first real Call of Duty event this season. Long live OpTic, long live the Green Wall!
Previous Rank: 8 (
+2)
CDL Points: 240 (+60)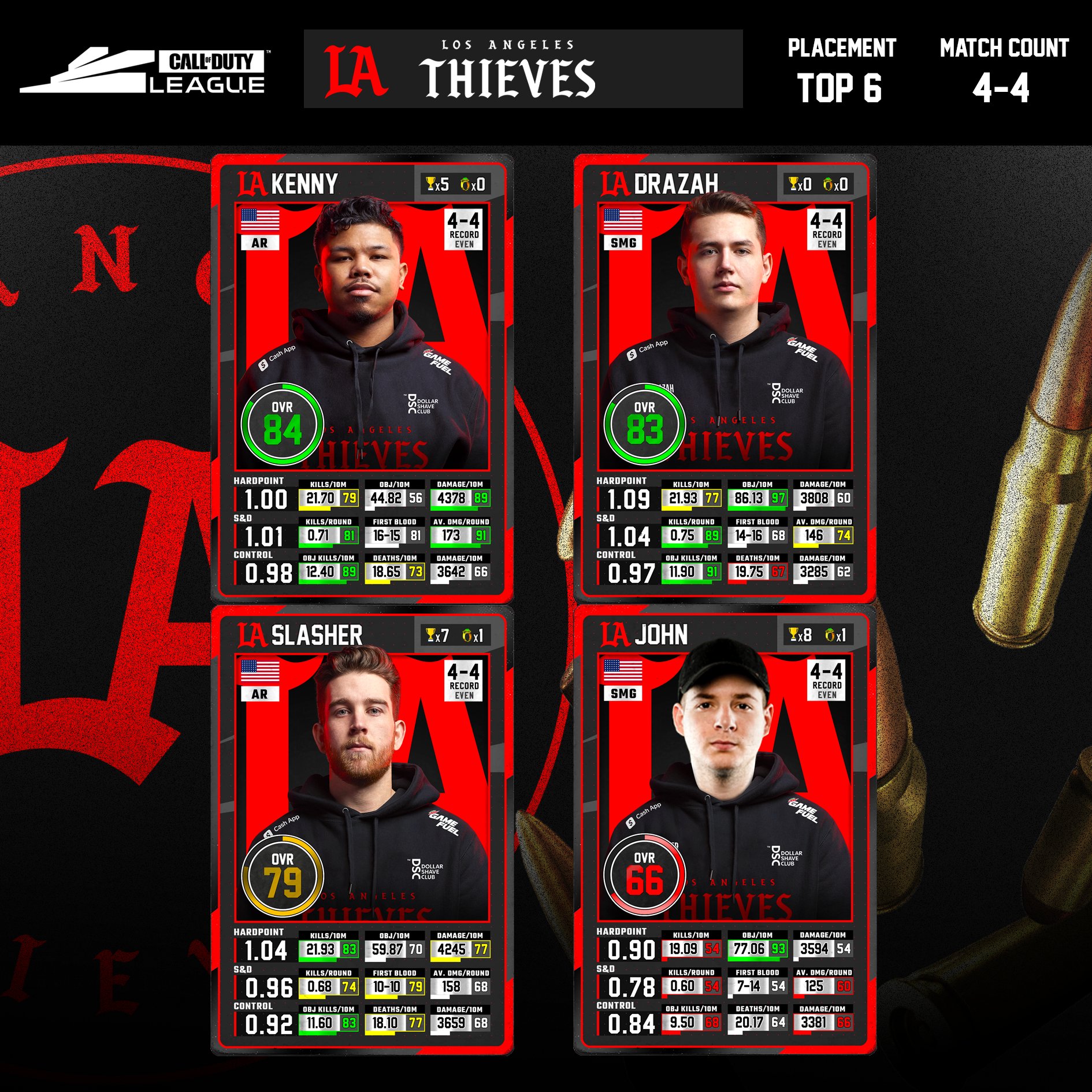 Around and around we go with the LA Thieves. This time, the Thieves have Drazah and John as the SMG's. Let's start with the good. SlasheR teams have always played immaculate Hardpoint. This stage, they were 10-6 in Hardpoint, and one of the best Hardpoint teams in CDL. Drazah has been a consistent top performer for the team all season. It was no different in Stage V. He was the best slayer on Thieves this stage, and had the highest overall K/D (1.09), across game modes. Control is still a problem for this team, but the bigger problem for Thieves is that other teams are a little bit further along and have a deeper map pool at this point in the season. Similarly to OpTic, LA Thieves have not made a grand finals this season.
Key Takeaways: By now, most people have realized that this LA Thieves team is not the same 100 Thieves team from BO4. Crowder is elsewhere, there's no Priestahh, no Octane, no Enable. It's missing some pieces. And they haven't shown an extra gear. But if there's one thing we've learned over the years, it's to never doubt a SlasheR team at Champs.
Previous Rank: 4 (
-3)
CDL Points: 340 (+30)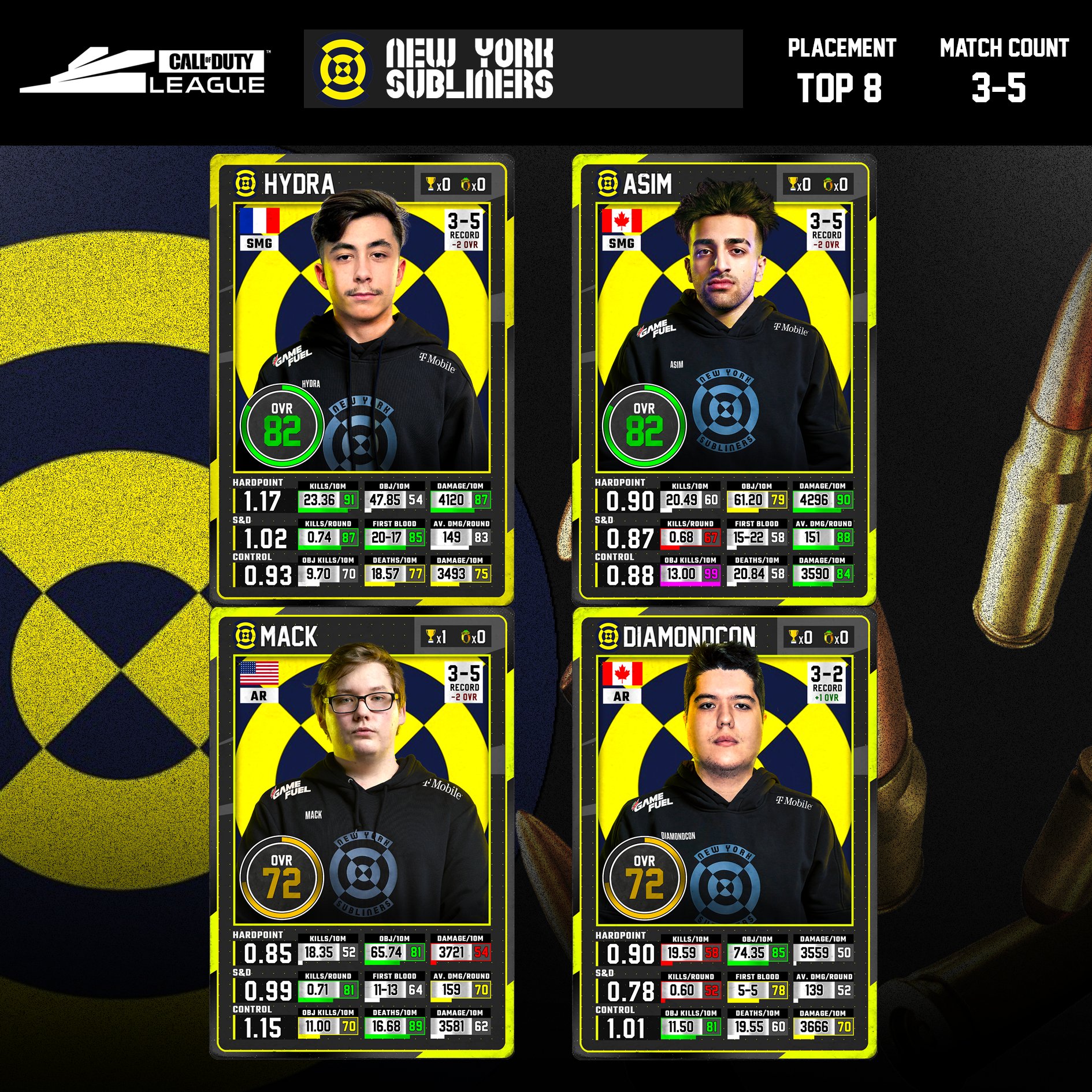 NYSL take the biggest tumble in this month's power rankings, dropping three spots to #7. Clayster stepped back at the beginning of Stage V after an 0-3 start, but is now back in the starting lineup for Champs. This team has been one of the most volatile in CDL. This season they have a 2nd place and 3rd place Major finish under their belts, but they also had multiple 8th place finishes. This time, they took home another top 8 finish, and finished 1-4 in groups, beating only Paris Legion. If you can figure out what this team is going to do at Champs, then bang our line, because this team is all over the place.
Key Takeaways: There's a lot to unpack on NYSL's performance during Stage V. It's never a good sign when a team goes into a slump just weeks before the biggest tournament of the year. Before the Major, NYSL looked like a bottom 3 or bottom 4 team in the League. On the plus side, HyDra put on a truly dominant performance on LAN, including a series against LA Thieves where he almost singlehandedly willed the Subliners to a victory. But outside of HyDra, none of the other players had above a 1.00 K/D for the stage. If NY wants to replicate their Stage III form, it will take a show of force from Asim, Mack, and a rejuvenated Clay.
Previous Rank: 6 (
-2)
CDL Points: 210 (+40)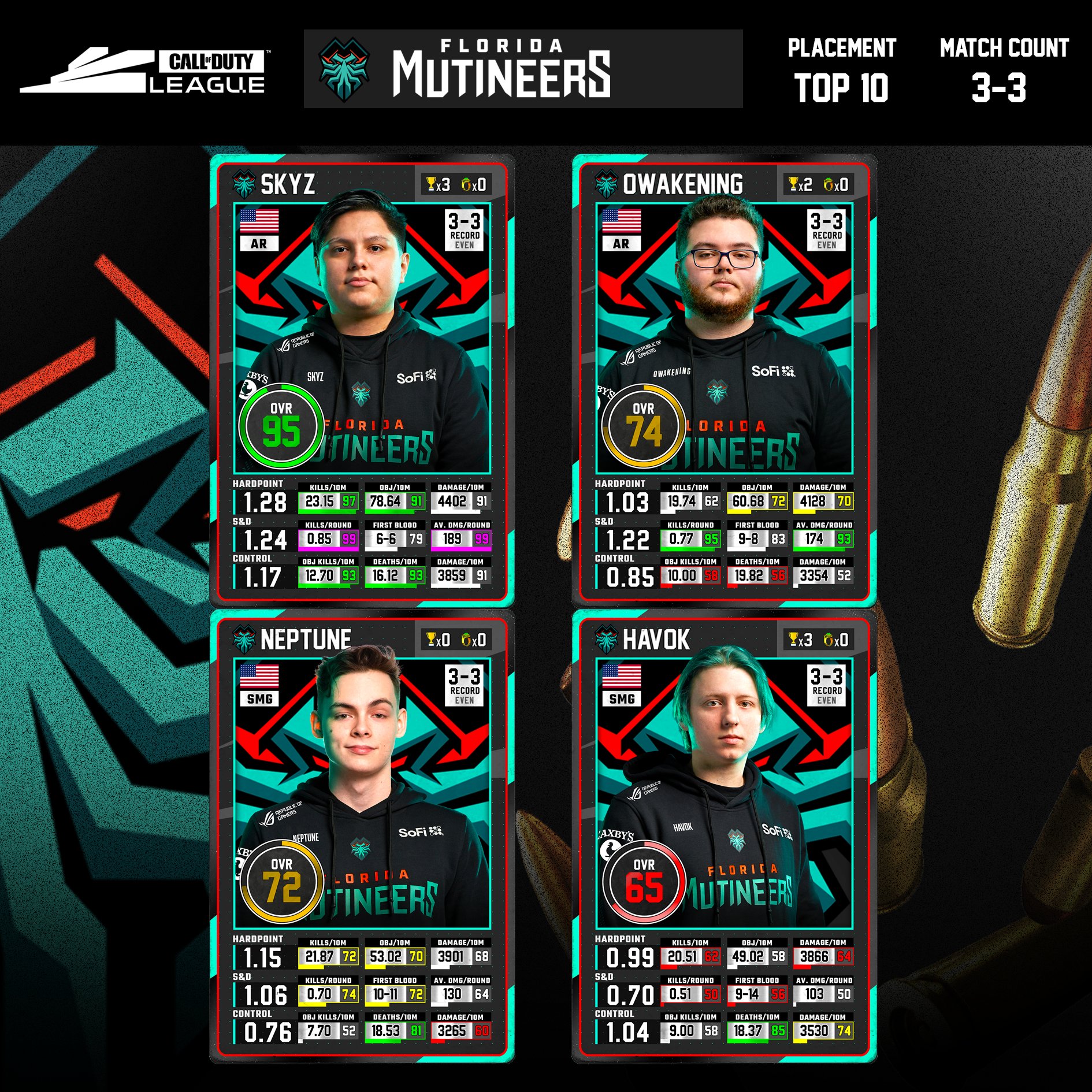 Mutineers started 3-0 in the group with wins against Seattle, Dallas (!!!), and LAG. Okay, everything is looking good. They then proceeded to drop sets against Ultra, and go 0-3 against RØKKR to narrowly miss out on the winner bracket. It feels like every time something is going right for Florida Mutineers, tragedy strikes. And for whatever reason, they can't beat the Subliners (0 – 5 against NYSL on the season; 4 out of 5 matches went to a final map). If we think about teams in tiers: FaZe, Ultra, and RØKKR are A-Tier. They have been able to consistently beat top teams this season when it matters. Those are your A-tier teams. Down in B-tier you have Dallas, Chicago, LA Thieves, and New York. Those teams have been good, but haven't been as consistently good as the top teams. Finally, we have the Florida Men™. They are still in a League of their own.
Key Takeaways: The players all have their individual moments of brilliance. Skyz had his best stage of the season. Neptune kept up his pace from Stage IV. Owakening has taken a step back, but is still a force. Havok has been making some of the biggest plays for the team. That's the conundrum: when you watch Florida play, they've had the raw talent all season. But when they match up against good teams, they often look absolutely lost around the map. This team hasn't placed better than top 6 all season and only a few would expect them to improve at Champs.
Previous Rank: 9 (
)
CDL Points: 120 (+40)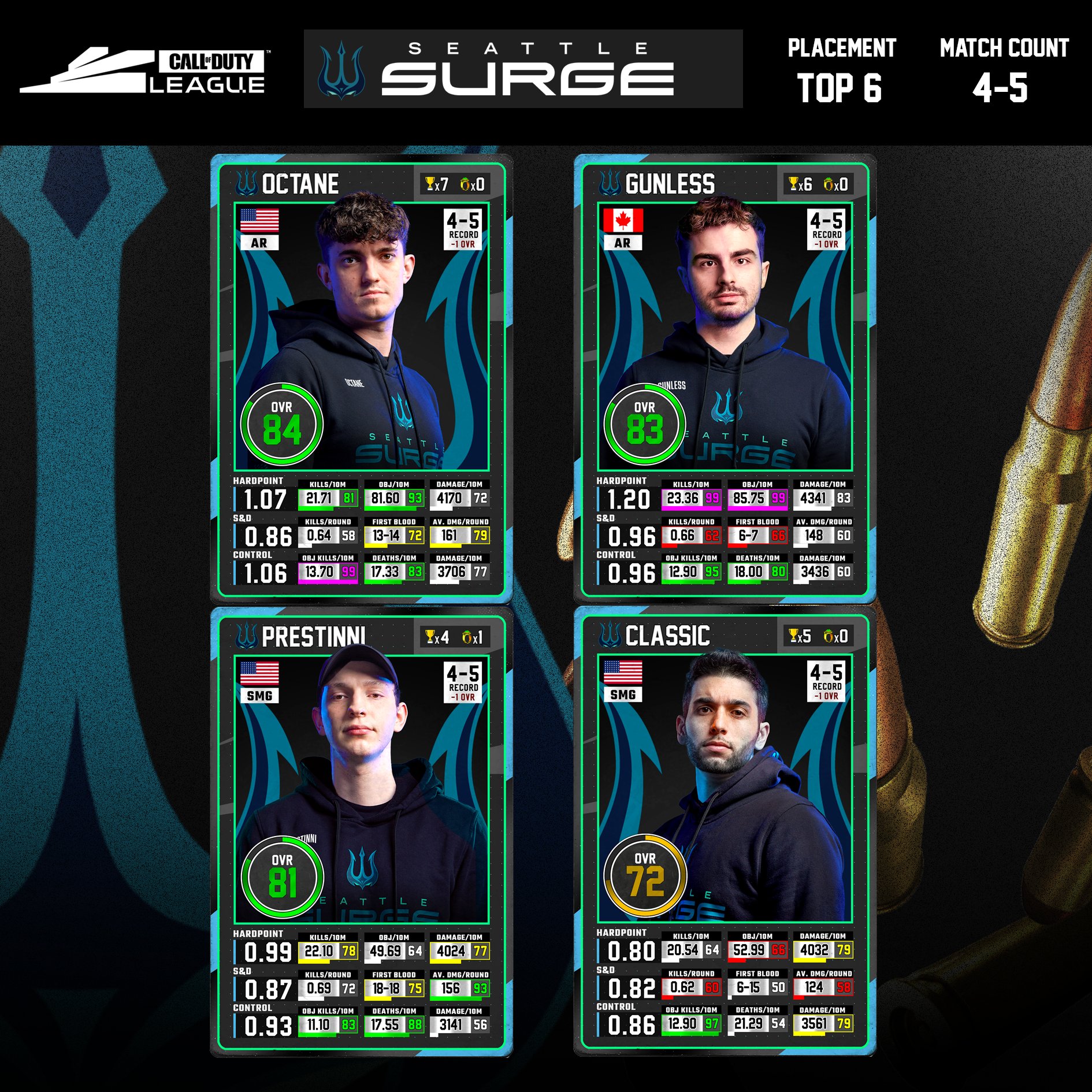 They did it, the madlads absolutely did it. They beat FaZe at the Major. They placed top 6 at the Stage V Major, the team's highest placement of the year. Gunless had his best stage this season with a 1.08 overall K/D. The team had energy and they looked happy to be playing in front of a crowd.

Key Takeaways: The season is over for Surge, but the players should be proud of their performances at the very end. 11-1 in Hardpoint record on LAN is an impressive feat. Unfortunately for Surge, it was too little too late. With rumors swirling that the team wanted to get Standy at the beginning of the season, one wonders what kind of damage this team could have done if they had an extra player to work with, or if they turned the corner a stage earlier…
Previous Rank: 11 (
+1)
CDL Points: 110 (+30)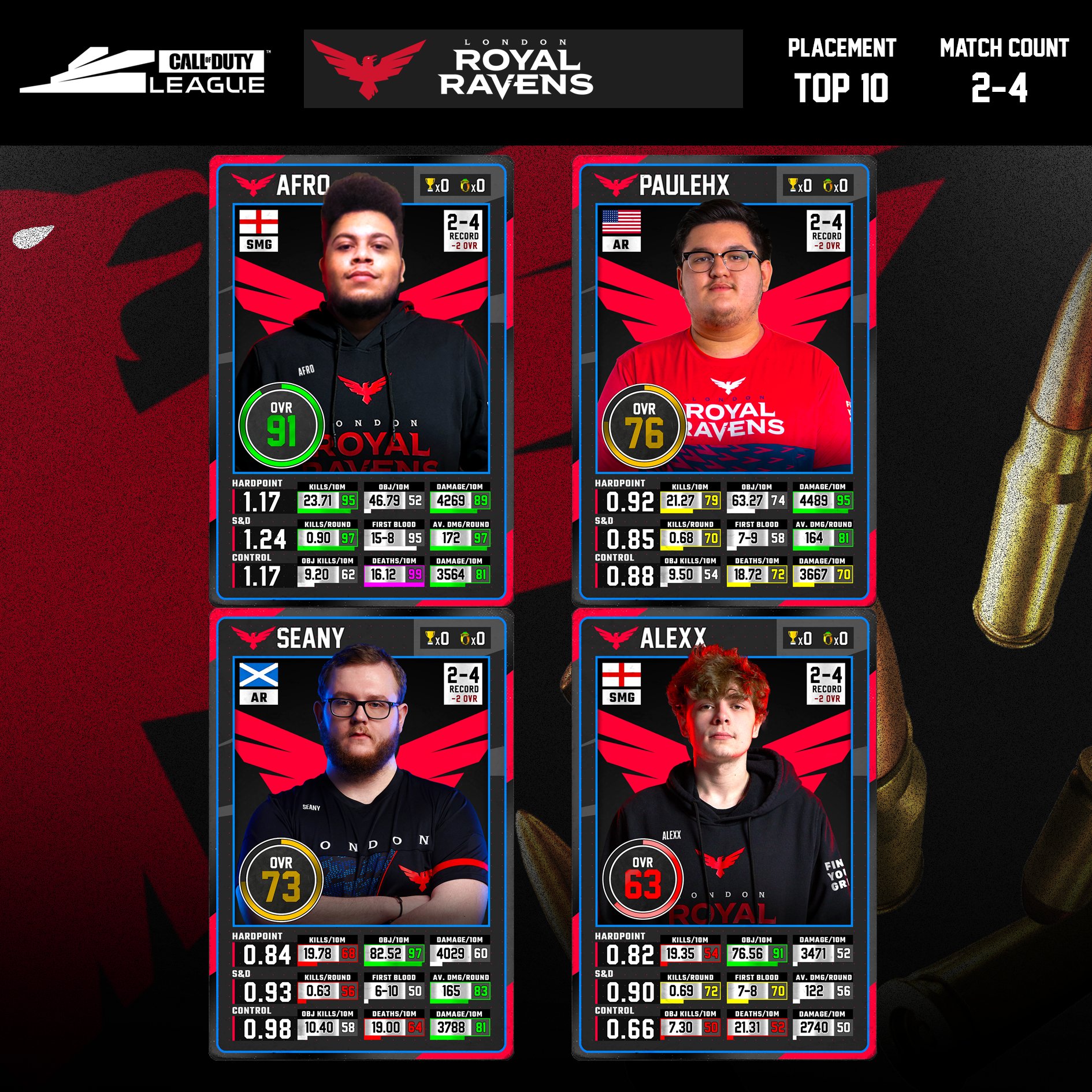 Every single voter had the same three bottom teams in the same order. There's not much to cover on London. COVID made it difficult to get their team in the same place at the same time. Still, the team should have been better than it was this season. Last season, the Ravens hovered in the top 6 to 8 range, and at various points, had incredible highs (including a 4th place finish at Champs last season).
Key Takeaways: Out of the bottom teams, London has the most promising future. They have two young, definitive pieces in Afro (SMG) and PaulEhx (flex) to build around. In Stage V, Afro had a 1.18 K/D, the highest of any SMG in CDL, and the 3rd highest in the entire CDL. Even more talent awaits in Europe. Keep an eye on UK Challengers players like Nastie and Gismo; they will be top targets for the team next season.
Previous Rank: 10 (
-1)
CDL Points: 100 (+10)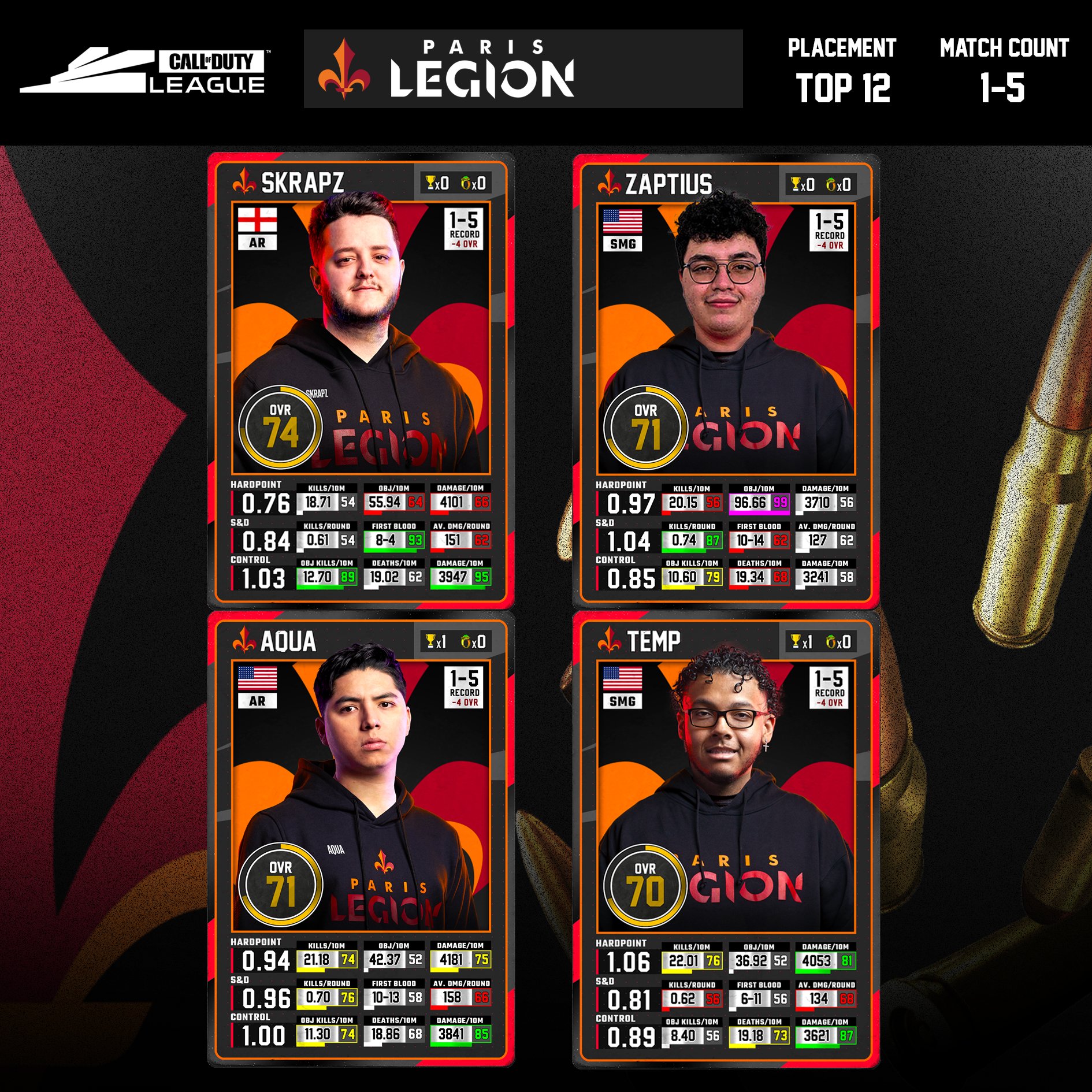 It's hard to make heads or tails of Legion's season. The season started with an abundance of promise. Legion picked up Modern Warfare top prospect Fire to round out a veteran team of Classic, Skrapz, AquA. The season ended with AquA tweeting out about mental health, a few cryptic tweets from Skrapz, and Paris Legion once again at the bottom of the League. Along the way, they picked up Temp (benched from LA Thieves) and Zaptius (released from London Royal Ravens). They dropped Fire in April, and haven't improved (4-8 with Fire, 4-14 since dropping him). They dropped Classic in May, and haven't improved (5-13 with Classic, 3-9 since dropping him). They weren't afraid to make roster changes, but the moves they made were ultimately ineffective. Like Seattle and LAG, they never managed to find a consistent SMG duo throughout the season. In a game that largely depended on being able to run 2-3 SMG's on every map, they only had 1 natural SMG player (Classic, then Zaptius) for the entire season.
Key Takeaways: It's unclear where this team goes in the future. Do they keep any of these players? Last offseason, Legion jettisoned every single player on the roster. If they decide to build a French team, is HyDra even on the market for next season? Do they continue to pick up a lovable crew of North American and European castoffs?
Previous Rank: 12 (
)
CDL Points: 100 (+0)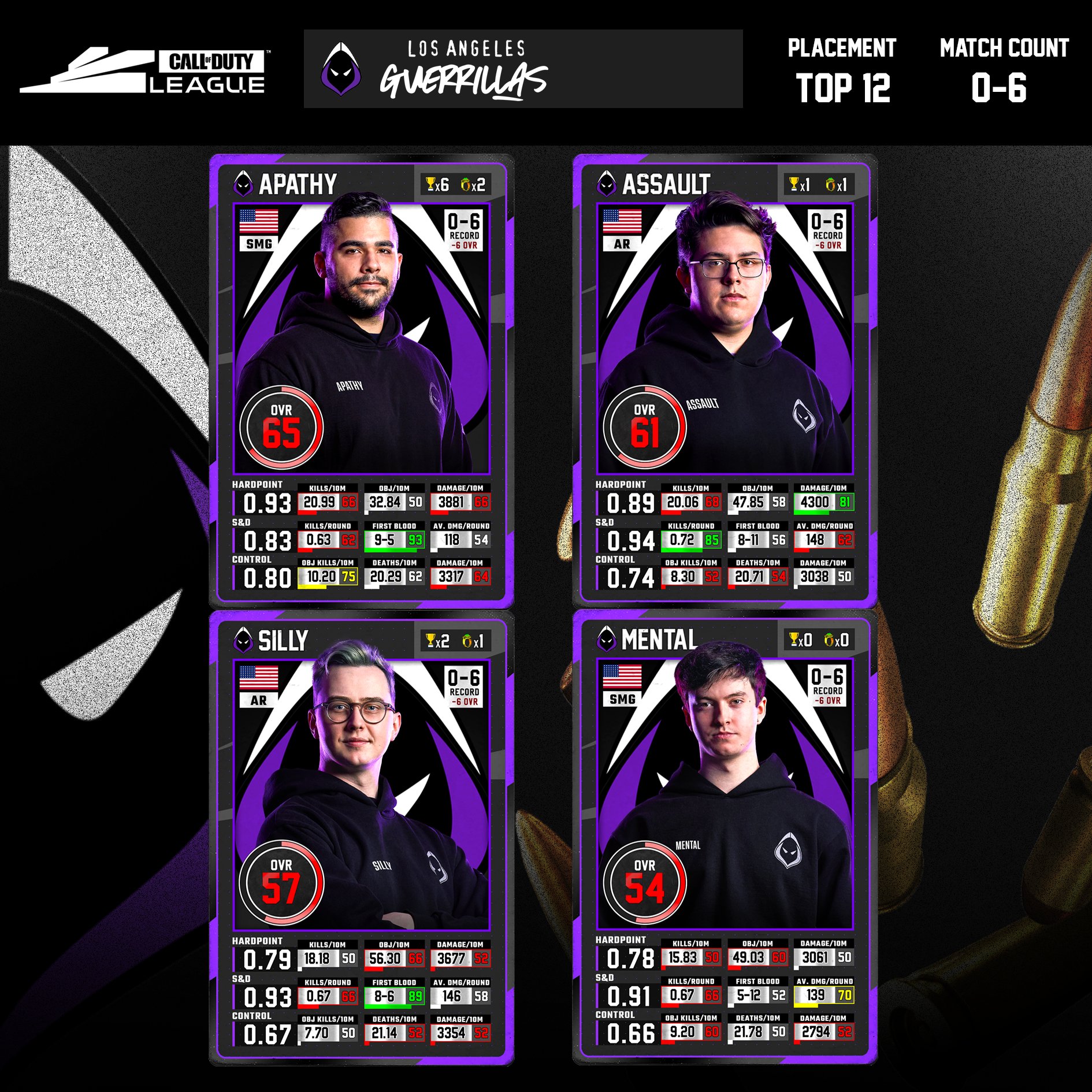 We saved the longest for last.

This is truly the dankest timeline for the LA Guerrillas. Last stage, the team benched Cheen and started newcomer MentaL in his place. They went 0 and 6 for the perfect "under"-feated stage. To all the loyal LAG fans out there, the only reason we're writing this is for the seven of you. And for the memes. Because at the end of the day, we truly got monkey'd by the LA Gorillas:
Despite mishaps and misfortunes across the board from the bottom teams, the Guerrillas may own the top two WORST roster decisions in CDL this season.

The first decision: benching Vivid and then trading him to an ailing Dallas Empire. Trading the team's top SMG slayer to a competitor will never be highly rated, but to add insult to injury, LAG went and abysmal 3-17 after benching him! Trading your best player, revitalizing a competitor, and having the worst record in CDL after doing so. All in a day's work for the Guerrillas.

The second worst move of the season may have been committing to MentaL and starting him when the season was already out of reach. Barring a cataclysmic performance from a few of the players at Champs, MentaL will have the worst K/D of any player in CDL (0.76). It's easy for us to comment in hindsight, but there is no silver lining. They took the biggest of risk on new unproven talent (signing a star from a 3rd person shooter) and passed on other talents throughout the season (Afro, Standy, Neptune, PaulEhx, among others). To top it off, the team may have irrevocably damaged MentaL's career and his stock as a professional CoD player.

At least LAG were the first team to beat FaZe this season. They will always have that.

Key Takeaways: What can they do for next season? The team can start by digging deep, figuring out an identity, and establishing some clear goals. They're not going to Champs, so they'll have a head start on some of the other teams in terms of 2022 planning.

Does the team keep Apathy, SiLLY, and Assault? The WWII and BO4 trio has not worked out as a core. For the players' own sake, there may need to be a clean split. Hopefully, the team is able to make use of the lessons from years one and two going forward.